Kayla Itsines is an Australian personal trainer, fitness influencer, author, and entrepreneur who has a net worth of $70 Million. She became a global sensation when she launched her fitness empire in 2014 which she built from the ground up. Hundreds and thousands of people around the globe have completed workouts through the fitness mogul "Sweat App."
The internet workout queen had humble beginnings in South Australia as a personal trainer with an Instagram account. To educate and support women, Kayla Itsines had no idea she's become the world's most influential fitness star.
Kayla has racked up over 50 million social media followers. She has sold out stadium BootCamp tours in over 15 cities. In 2017 she was named Forbes's top Fitness Influencer. On the other hand, "Time" magazine included her on the list of their "30 most influential people on the Internet."
What is Kayla Itsines' Net Worth?
[table id=157 /]
Early Life
Kayla Itsines was born on May 21st, 1991, in Adelaide, South Australia. She is the eldest daughter of Jim and Anna Itsines, both of whom are teachers. She is of Greek descent. Kayla has a younger sister Leah who is a food stylist and personal trainer.
Itsines has always been active in fitness and physical activities since her childhood. During her school days, she participated in a number of sports including basketball. At the age of 15, she went to the hospital where doctors informed her that she had endometriosis and might suffer from fertility problems in the end.
To get rid of this issue, Kayla began working out at the gym. Around that time she had dreams of becoming a beauty therapist. But after discovering her passion for fitness she decided to become a personal trainer. At the age of 18, she graduated as a Master Trainer from the Australian Institute of Fitness.
Career
Upon her graduation, Kayla went to work out at a women's gym in Adelaide. During that early time, she helped her sister's friends to improve their fitness levels so they could play in the high school Netball team.
Her main focus was building legs and core power. She asked her sister's friends to share before and after photos of their progress. From that point on Kayle created an Instagram account and started posting her workout routines.
On social media, she was also helping other people to achieve their fitness goals. Her workout routines and before-after posts of her clients earned her thousands of followers on Instagram. Her partner Tobi Pearce advised that she need to start an online fitness program to expand her outreach.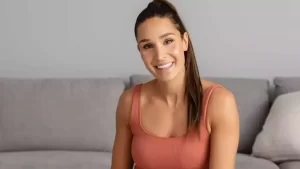 Breakthrough
In March 2013 Itsines teamed up with her boyfriend Tobi to launch her company called "Bikini Body Training." Tobi became the CEO of the firm and Kayle began working as a director.
Following their success, the two released the "two Biniki Body Guides" in January 2014. These guides were about nutrition and workout and Itsines started guiding women via an affiliate program. By October of that year, the guides were a massive success being downloaded over 1 million times.
Other Ventures
In 2015 Kayla headed a world tour called "Kayla Itsines Bootcamp World Tour." She led free group fitness classes in numerous places including LA, New York City, and London, as well as several cities in Australia. In April of that year, she was featured in a TV commercial for "Apple Watch."
Kayla published her first book titled "The Bikini Body 28-Day Eating and Lifestyle Guide" in November 2016. Her second book "The Bikini Body Motivation & Habits Guide" was published in the following year.
Kayla's BGG program provides 1,600 to 1,800 meal plans as well as 28-minute high-intensity workouts. In 2015 this program was founded by Kayla and her partner Tobi and it reached number 1 in the App Store within one year. 
Personal Life
Kayla and Tobi began dating when the two first met in the gym in 2013. Later the couple started their fitness company and Tobi became the Chief Executive Officer of the firm.
In April 2018 Itsines and Tobi got engaged and welcomed their first daughter in May 2019. After being in a relationship for 8 years the duo broke up. In August 2020 they revealed their separation via Instagram post.
After one year of her separation from Tobi, Kayla got engaged to Jae Woodroffe. The two dated for about one year and then got engaged.  Jae is a fitness influencer and co-founder of the fitness app Sweat.
Career Highlights
Being included in 2016 wealthiest Australians aged under 40 by BRW _ "Young Rich"
The Bikini Body 28-Day Eating and Lifestyle Guide (First book, 2016)
Listed in "30 most influential people on the Internet" by Time magazine
Sweat with Kayla (Fitness app)
Bikini Body Guides (Ebooks)
Kayla Itsines Net Worth
Kayla Itsines is one of the most successful personal trainers in the world. Her popularity grew when her program BBG was launched. This widely viral "Bikini Body Guide" or #BBG has been followed by millions. She is considered by many one of the healthiest role models for young women.
Kayla established herself as one of the wealthiest fitness influencers in the world. Over the years her wealth is increasing regularly due to her ventures. Itsines accumulated a vast chunk of fortune through her fitness app "Sweat with Kayla."
She also earns from world tours, appearing in TV shows, covers in magazines, and her YouTube channel. The supplement and fitness brands are also big contributors to her wealth. As of 2023, Kay Itsines' net worth is estimated to be $70 million.
You May Like: