Jessie Reyez is a Canadian singer and songwriter who has a net worth of $1 Million. She rose to fame after releasing her debut single "Figures" in 2016. Jessie gained popularity when that song went Triple Platinum by Music Canada as well as Platinum by RIAA.
She is taking the music world by storm with the help of her unique sound and music-writing ability. In 2017 Jessie dropped her breakthrough EP "Kiddo" which led her to win the 2018 Juno Awards for "Breakthrough Artist".
Her second project was even more successful, earning her Grammy Awards nomination for "Best Urban Contemporary Album". Reyez also collaborated with the likes of Calvin Harris, Eminem, King Louie, and many more.
What is Jessie Reyez's Net Worth?
[table id=278 /]
Early Life
Jessica Reyez was born on June 12th, 1991, in Toronto, Ontario, Canada. Both of her parents moved to Toronto from Colombia, where her mother was a preschool teacher. Jessie's father German Reyez played guitar which she began playing after finding her passion and love for music.
Jessie also has an older brother, who she credits with bringing Raggae into her life. Her love for music started when she used to sit in front of her TV, singing along to opera. Jessie's family moved from Toronto to Brampton, where she spent most of her childhood and teenage years.
She claimed while in high school, her passion for dancing took her away from her academic studies. Throughout her high school years, she fell in love with her boyfriend who encouraged her to start writing songs.
Career
While pursuing music, she had work odd jobs such as babysitting, teaching, dancing, and working at a Pizza shop. Jessie began performing her music in local Toronto clubs and around the streets of the city. But soon, her family moved to Florida in 2012.
While in Florida, she picked up a job bartending and was making pretty good money. After spending a couple of years there, Jessie returned to Toronto in 2014. There, she was accepted into "The Remix Project's Academy of Recording Arts."
This is where she was mentored by a bunch of musicians including Daniel Daley, which is one-half of the OVO-signed duo, "Dvsn". The Chicago rapper, King Louie was also mentoring while Jessie was attending this Remix Project.
The rapper King Louie teamed up with Jessie to release a joint single "Living in the Sky" in 2014. She then dropped her second single "It Hurts (Selena)" in 2015. Then in early 2017 her song "Shutter Island" came out.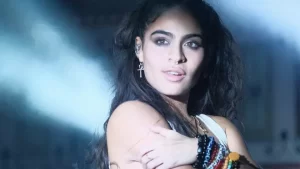 Breakthrough
Jessie released her hit single "Figures" in 2017 which premiered on Beats 1 Radio. The track "Figures" wound up peaking at #58 on the Canadian Hot 100 as well as earning certified triple platinum.
In April of that year, Jessie dropped her debut extended play "Kiddo" and a short movie to the song "Gatekeeper". Her debut EP wound up peaking at number 83 on the Canadian Album Chart as well as earning her fame. Billboard named Reyez one of the top 10 hip-hop and R&B artists to watch in 2018.
This momentum helped Jessie to sign a deal with Island Records. In October 2018, she released her second EP "Being Human in Public" and spawn a tour across North America. In March 2020, Reyez released her debut album "Before Love Came to Kill Us" which became a commercial success. The album debuted at number 13 on the US Billboard 200.
Other Ventures
In 2017, Toronto rapper PartyNextDoor announced his European tour and his opening act, Jessie Reyez. She came out strong in 2019, winning several awards as well as collaborating with Eminem on the songs "Nice Guy" and Good Guy". She was also featured in the soundtrack for the film "Fifty Shades Freed".
In April 2019, she dropped the single "Imported" and then has a cameo in the Netflix film, "Someone Great". Reyez credits her parents as an inspiration for encouraging her music career and hopes to work with the likes of Kid Cuddi and Frank Ocean.
Jessie helped write the hit songs "One Kiss" and "Promises" by Calvin Harris and was featured on two songs with Eminem. She also wrote hit singles for some prominent artists like Kehlani, Dua Lipa, and Normani.
Personal Life
Jessie started dating her boyfriend while studying in high school. At 17 years old Reyez found out that her boyfriend would be continuing his education in another country. As a result, their relationship ended there. That was the time when she started writing about, real pain.
Career Highlights
Figures (Song, 2016)
Kiddo (Debut EP, 2017)
Being Human in Public (Second EP, 2018)
Before Love Came to Kill Us (Debut album, 2020)
2018-2019-2020-2021 Juno Awards, Breakthrough Artist, two R&B/Soul Recording of the Year, Video of the Year _ Won
2020 Grammy Awards, Best Urban Contemporary Album _ Nomination
Jessie Reyez Net Worth
Jessie Reyez finally saw success in 2019 with her unique sound and music writing ability. She came to the spotlight following the release of her breakthrough single "Figures". Since then, the singer collaborated with the likes of Calvin Harris, Eminem, and many more.
Reyez's talent shines when she picked up her guitar and sings from the heart, something she's been doing since her youth. She mainly earns from performing on live shows, writing hit singles for other artists, as well as releasing her own albums. As of 2023, Jessie Reyez's net worth is estimated to be $1 Million.
You May Like: