Ari Lennox is an American R&B singer and songwriter who has a net worth of $4 Million. She rose to fame after releasing her debut EP "Pho" in 2016. The project was released under J. Cole's record label, "Dreamville Records" and Ari became the first female artist who signed with this label.
Later, in 2019, Lennox came to popularity once again when she dropped her debut album "Shea Butter Baby" featuring hit singles like "Whipped Cream" and "40 Shades of Choke".
Before all that success, Ari had worked as an independent artist for many years, uploading her music online and working a series of different odd jobs. The turning point of her career came when she became the first female to sign onto J. Cole's Dreamville label back in 2015.
What is Ari Lennox's Net Worth?
[table id=277 /]
Early Life
Courtney Shanade Salter aka Ari Lennox was born on March 26th, 1991, in Washington, D.C. She spent her formative years growing up in the DMV area, otherwise known as Washington, D.C. with her parents  Gloria Salter and Shane Salter.
Ari never considered herself a child prodigy, a future in music was never a guarantee. However, her grandmother was one of the first people to recognize her talent. At only three years old she told her granddaughter that she had the voice of an angel and encouraged her to sing.
Ari's first public appearance was at her school "Poplar Tree Elementary". She later studied at Wilson High School as well as Duke Ellington School of the Arts. Ari took music more seriously at the age of 18. She started calling herself "Ari Lennox" after the character of Mary Lennox, in the film The Secret Garden. 
Career
As Ari set out on her new path, she won a few competitions on the popular BET Music Video countdown show "106 & Park" among others. She also auditioned for "American Idol". There was even a point when she auditioned for Diddy's band in 2009 but that didn't work out either.
So, Ari decided to launch her YouTube channel where she began uploading her music in 2009. This was right after she graduated from high school. She didn't pursue her college career and felt the pressure to do something with her life.
Ari uploaded a whole bunch of covers but nothing took off until her versions of "Thinking About You" and Beyonce's "Drunk in Love". However, these tracks were not enough to take her into the mainstream. So, Ari abandoned YouTube and began uploading original content to SoundCloud.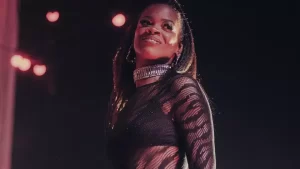 Breakthrough
In 2013, Ari released her first mixtape "Five Finger Discount" and EP "Ariography". She followed that up by dropping her single "Bound" the next year. In 2015, she was featured on Omen's track "Sweat it Out".
Between that and her SoundCloud uploads her music was circulating with J. Cole and the Dreamville team. They thought Ari might bring something special to the upcoming sessions that they had turned the books on with Rihanna.
J. Cole and the Dreamville team were impressed by Ari's talent and they signed her to their "Dreamville Record Label" in December 2015. After that, she popped up in J. Cole's song "Change" and then dropped her EP titled "Pho".
By July 2018 she was releasing "Whipped Cream". That track went on to become the first single of her album "Shea Butter Baby" when it was released in May of the following year. Her debut project went on to peak at number 7 spot on Billboard's US R&B Charts.
Lennox saw success following the release of her hit single "Pressure" in September 2021. That track debuted at number 3 on R&B/Hip-Hop Airplay as well as becoming her first solo charting track on the Billboard Hot 100.
In August 2022, she teamed up with Summer Walker to release the song "Queen Space" which was included on her surprise EP "Away Message". Ari Lennox accumulated a net worth of $4 million with the help of releasing hit music throughout her career.
Other Ventures
She is inspired by different artists including Whitney Houston, John Legend, and Erykah Badu, as well as acts like Coldplay and the Red Hot Chili Peppers. This mix of genre influences would help shape her sound and form into her unique artist.
Well into her 20s, Ari was still working a series of odd jobs while moving around constantly. At this time in her life, she was feeling aimless as she bounced around from Papa John's to Pizza Hut and a lot more. Ari never saw a $1000 paycheck in her life until she eventually wound up driving for Uber from the age of 24 to 26.
Dreamville's compilation "D-Day: A Gangsta Grillz Mixtape" came out in March 2022 for which she worked on two songs "Coming Down" and "Blackberry Sap". Ari also started her headlining tour called "Shea Butter Baby Tour" in 2019.
Career Highlights
Pho (First EP, 2016)
Shea Butter Baby (Debut album, 2019)
Pressure (Song, 2021)
Ari has also gone on to be listed on BET's Feature 40 list.
2019 Grammy Award, Best Rap Album _ Nomination
2019 Soul Train Music Awards _ 3 Nominations
2020 NAACP Image Awards _ 2 Nominations
Ari Lennox Net Worth
Ari Lennox is one of the well-known artists in the music industry. Despite the praise, she is receiving now, it was a long road to success for Ari. After signing with J. Cole's label, it took Ari a few years to continue developing her music and sound.
The singer had real success in her career when she dropped her first album "Shea Butter Baby" in 2019. Following the release, J. Cole jumped onto Twitter to announce "Ari as the future of the music scene". As of 2023, Ari Lennox's net worth is estimated to be $4 Million.
You May Like: