Jem Wolfie is an Australian model and Instagram star who has a net worth of $8 Million. She is a Bang Energy and Happy Way sponsored athlete who established herself as one of the highest earners on the subscription-based platform, OnlyFans.
Wolfie had amassed a following of more than 2.6 million on Instagram but unfortunately lost it all when her account was disabled due to posting multiple provocative selfies. She also got shout-outs from the likes of WorldstarHipHop and The CHIVE.
She is probably best known for her impressive basketball skills as well as collaborating with Fitness model and YouTuber Bradley Martyn. Following her breakthrough on social media, she became a chef and started her own business called, Good Eats.
What is Jem Wolfie's Net Worth?
[table id=566 /]
Early Life
Jem Wolfie was born on August 7th, 1991, and grew up in Western Australia on the outskirts of Perth. She was raised on a 100-acre land with her parents and two older brothers.
Her mother worked as a teacher for 20 years. Jem's father is self-employed, running a rare mineral mining company. Jem grew up with two older brothers, riding dirt bikes, and horses, swimming in the river, and getting covered head to toe in the dirt.
On the family farm, Jem was surrounded by animals, there were more than 20 cows, chickens, geese, horses, huskies, and much more. Growing up, she was very outgoing but was also a troublemaker. In 2nd grade, she cut off a girl's ponytail which got her suspended from school.
Career
At the age of nine, she was involved in an accident, getting run over by a motorbike. For a couple of years, she got into a habit of skipping school from time to time. Despite this, Jem showcased her passion and dedication to the arts and athletics.
She loved to draw and paint which she posts on her Instagram. Jem learned to play the drums, the piano, and the guitar, taking lessons for about seven years. In addition to this, she played tennis, did a lot of swimming, tried her hand at MMA, and then found her true love for basketball.
Jem was so good at the basketball court which helped her to gain millions of fans. From 10 to 17 she played State League Semi-Pro in the WABL but then had an accident that required her to have knee reconstruction surgery. From there, her basketball dreams were over.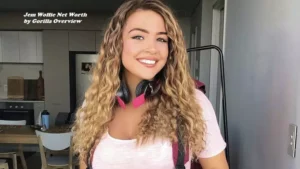 Breakthrough
The turning point of her career came when Jem Wolfie found her new passion for fitness. Her mother had long been the inspiration for Jem with her running 10 kilometers a day plus another 30 kilometers to work.
She began to hit the weights pretty heavily and was blown away by her ability to reshape her form. Besides this, Jem's favorite class in school was always home economics which is cooking, sewing, and stuff like that.
She got her grades up to A's and B's in her final two years of high school and even took home an Academic Award. She enrolled in Culinary School for two years and became a qualified chef.
Further Success
Jem then got to work in the famous Western Australia Wine district known as Swan Valley as a chef. She worked there for 6 years while continuing to train in her time off. Jem loved the creativity, she was able to practice her craft.
Her father and former boss influenced her to start her own business. That's when Jem jumped on social media, adopting the name called "Good Eats Perth". From there, she began promoting her meal prep business along with posting se*y selfies.
At the start of her social media journey, she also displayed her ongoing basketball prowess. She also used rap and hip-hop songs in the background.
A few shout-outs from the likes of World Star Hip Hop and The Chive allowed her to inflate her numbers which translated into higher sales for her Perth-based food prep company. In this process, Jem Wolfie accumulated a net worth of a whopping $8 million.
Other Ventures
Jem is a multitalented personality who manages the orders and the deliveries all while preparing the meals. On top of this, she has her workouts by Wolfies Program which boasts its own Instagram account. There, she shares a range of workouts.
The idea behind her brand is to spread the message that not all fitness girls need to have six-packs or look shredded. Wolfie aims to find a more realistic and natural body shape that's not only achievable but maintainable as well.
Jem Wolfie Net Worth
Jem Wolfie is one of the highest-paid social media personalities in Australia who accumulated millions of dollars from her career. She wanted to become a professional basketball player but began pursuing her fitness career after having an injury.
Wolfie makes money from sharing her content on social media as well as her food business. She created her profile on the social media platform, OnlyFans which she quickly amassed a large following. Soon, Jem became the highest-paid person on the platform earning over $30,000 in a day from Onlyfans. 
She reportedly amassed nearly $1 million per month from posting her content on the forum. Wolfie was named the platform's biggest star by Tom Stokely (OnlyFans' CEO). As of 2023, Jem Wolfie's net worth is estimated to be $8 Million.
You May Like