Jack Champion is an American actor who has a net worth of $1 Million. He is best known for starring as Spider in the 2022's science fiction film "Avatar: The Way of Water". Prior to this, Jack has been acting in films and TV series since 2015.
Jack Champion is a fresh face in Hollywood and most notably can be seen in the 2023 Scream flick, playing Ethan Landry. The actor made a name for himself in the entertainment industry by appearing in a number of films.
What is Jack Champion's Net Worth?
[table id=326 /]
Early Life
Jack Champion was born on November 16th, 2004, in Blacksburg, Virginia, the United States. His mother Anna Champion is a Microbiologist who raised him and his younger brother. Aside from that, there isn't much information on Jack's family.
As a child, he already knew he wanted to become an actor and began doing so when he was eight years old. While studying in school, Jack got the opportunity to begin his acting career by working in school theater.
Career
Once Jack got serious about making acting a career, he booked some minor roles. In 2015, he scored a small role in the series "American Genius". He also had a main role in the 2018 horror film "The Night Sitter".
In 2017, Jack discovered he'd been cast in the superhero film "Avengers: Endgame". So, before he would head to Los Angeles and tried to land the part of Spider in Avatar, Jack flew to Atlanta for a small gig. He had a memorable scene in the "Avengers: Endgame".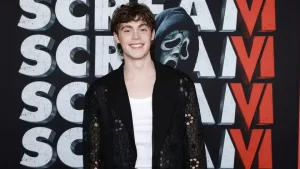 Breakthrough
Despite only having a few small credits to his name, Jack booked a screen test to join the cast of the fiction movie "Avatar: The Way of Water" in 2017. Around that time he was only 12 years old and it would change his life forever.
Jack booked his role in "Avatar" after four months of extensive auditions. After an audition, he met the casting director over Skype and he still wasn't sure he'd get the role. Nevertheless, Jack got the role of Spider for which he build a muscular physique.
After five years of production, "Avatar: The Way of Water" was released in 2022 after Jack had already turned 18. It became a massive success, making $2 Billion worldwide, making it the third highest-grossing film of all time.
At that same time, Jack also was shooting for the sequel "Avatar 3" which is set to release in 2024. Additionally, he shot some parts of "Avatar 4" which will come out in 2026.
Other Ventures
In 2023, Jack got the role of Ethan Landry in the popular film "Scream VI" in which he appeared alongside an ensemble cast. This movie was released in March of that year.
At the start, his character is simply shy and dorky roommate of one of the other main characters Chad. According to Jack, the role of Ethan was a fantasy come true. After spending a huge chunk of his young acting career in "Avatar", Jack has admitted he is also enjoying the flexibility of smaller projects.
Career Highlights
Avatar: The Way of Water (Film, 2022)
Scream VI (Slasher film, 2023)
Jack Champion Net Worth
Jack Champion is one of the up-and-coming actors in the American entertainment industry. However, he hasn't made the move to Hollywood yet and says he wants to keep his home where he is. Jack is on his way to becoming one of the lead actors in showbiz.
He already garnered massive success for his appearance in the hit film "Avatar". The Verginia-based actor accumulated a lot of fortune through salaries from films. As of 2023, Jack Champion's net worth is estimated to be $1 Million.
You May Like: