Hailie Mathers is an American influencer, social media personality, and actor who has a net worth of $2 Million. She is best known for being the daughter of famous rapper Marshall Mathers who is known as Eminem.
The rapper released numerous hit singles and albums throughout his career. Hailie often made her appearance in Eminem's music videos. She inspired her father to talk about her in over 20 songs including "Hailie's Song," "Beautiful," and "When I'm Gone."
Hailie Mathers spend most of her early life hidden away from the media due to her father's popularity. She came into the spotlight when her photos were revealed online. She made a name for herself in the modeling and fashion industry, appearing in a number of publications.
What is Hailie Mathers' Net Worth?
[table id=166 /]
Early Life
Hailie Jade Scott Mathers was born on December 25th, 1995, in Detroit, Michigan, USA. Her mother Kimberly Anne Scott met Eminem in high school and the two remained in their relationship until the birth of their daughter, Hailie.
After the birth of Hailie, Eminem began working as a dishwasher. Soon he began pursuing his rap career but after his first album flopped, he became depressed. Later Eminem wanted Hailie's vocals on the track but his wife Kim refused to let their two years old get involved.
In 1999 Hailie's parents married and Eminem started focussing on his music career. Hailie's father adopted her cousin Alaina Mathers when Kim's twin sister couldn't take care of her. Hailie and Alaina grew up together along with half-sister Whitney Scott Mathers.
In 2001 Hailie's parents divorced and their relationship made headlines for months. They remarried in January 2006 but divorced months later. Later the couple decided to hide their daughter Hailie from the media. Hailie was sent to a Public school near Detroit and had a fairly normal upbringing.
Hailie attended Chippewa Valley High School where she entered the Art club and volleyball Club. She graduated in 2014 with honors and was even named "Homecoming Queen." After that she enrolled at Michigan State University, obtaining a degree in Psychology in 2018.
Career
Following her high school studies, Hailie Mathers decided to become a social media star, creating an Instagram account in October 2016. However, her father is a rapper but Hailie found a completely different career for herself.
She began sharing lifestyle and fashion posts on social media which helped her to catch the attention of a massive audience. Hailie stated that she likes to maintain a low profile and doesn't want to pursue a career in music.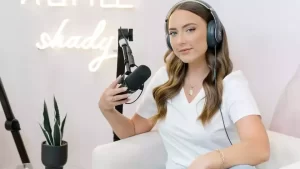 Breakthrough
Hailie came to the limelight in 2017 when she started posting her picture on Instagram. As a result, she gained thousands of followers which encouraged her to post regularly. Eventually, she garnered more than 3 million followers on Instagram.
As a child, she also provided vocals for many of her father Eminem's hit singles including, "Going Through Changes," and "You're Never Over," among others. Hailie was just 7 years old when provided vocals on the song "My Dad's Gone Cra#y" which has nearly 3 million views on YouTube as of now.
In 2005 she was featured in the music video for her dad Eminem's song "When I'm Gone," which wound up getting over 974 million views on YouTube. Upon her graduation, she received awards including Academic Excellence and Department of Psychology.
In December 2021 Hailie Mather started hosting her own podcast named "Just a Little Shady" where she has over 100k subscribers. In addition, she is quite active on other social media outlets such as TikTok where she does clothing and makeup tutorials.
Personal Life
Hailie Mather and Evan McClintock began dating in 2016. The couple first met while studying at Michigan State University. Their relationship came to the media when the two were caught together on the streets of New York City. In February 2013 Hailie and her boyfriend Evan McClintock eventually got engaged.
Career Highlights
Here are some of Eminem's most popular songs for which Hailie provided her vocals:
"When I'm Gone"
"My Dad's Gone Cra#y"
"Going Through Changes"
"You're Never Over"
Hailie Mathers Net Worth
Hailie Mathers is one of the rising content creators on the Internet. She is popular for being the daughter of Eminem. However, she had been hidden from the media for many years but now Hailie has millions of followers on different platforms.
She mainly earns from her podcast YouTube channel "just a little shady podcast" and some other ventures. Her dad has a worth of a whopping $250 million. Hailie has over 3 million followers on Instagram. As of 2023, Hailie Mathers' net worth is estimated to be $2 Million.
You May Like: