Dylan Mulvaney is an American actress, comedian, and social media personality who has a net worth of $1.5 Million. She is probably best known for making impressive content on her TikTok account.
Dylan has established herself as one of the most popular creators on all of TikTok with more than 10 million followers. Following her start on social media, she started getting offers from some high-end brands including Nike and more.
Mulvaney came to the spotlight after creating the popular video series called "Days of Girlhood". In this series, she shows everything about her life, and it already garnered over a billion views on TikTok.
What is Dylan Mulvaney's Net Worth?
[table id=294 /]
Early Life
Dylan Mulvaney was born on December 29th, 1996 in San Diego, California, USA. She began life as a baby boy born to parents James and Donna Mulvaney. Dylan's father, James Jr. grew up to become a San Diego-area philanthropist known for baking and handing out cookies to strangers for free.
Meanwhile, her grandfather, James Mulvaney Sr. worked as a lawyer and investment banker. He also served as the president of the old San Diego Padres baseball team. Dylan grew up a self-described theater kid.
Upon her high school graduation, she began attending the Cincinnati Conservatory of Music for musical theater. Around that time she also worked at the Froyo Story alongside a whole host of other retail jobs. In 2019, Dylan got her Bachelor of Fine Arts degree in musical theater.
Career
Following her graduation from the University, Dylan immediately found herself auditioning for TV and theater roles in San Diego. However, she was quickly confronted by the realization that producers were only willing to hire her for male roles.
Dylan got the role of Elder White in the Broadway musical "The Book of Mormon". At first, she wound up hiding away much of her own identity so that she could be considered for opportunities in the industry.
During the pandemic, Dylan Mulvaney was still a member of "The Book of Mormon", but only a few weeks later she found herself jobless. It was the first time when she asked herself "Who are you without acting and without playing a boy character".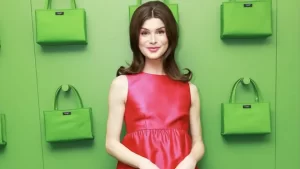 Breakthrough
In early 2020, Dylan downloaded TikTok and started producing comedy-style clips. Her content quickly caught the attention of a massive audience, and she was getting thousands of views on her videos.
As she continued to grow and entertain her audience throughout the next year, Dylan also discovered more truths about herself. For instance, Dylan realized that the more she distanced herself from being a boy, the more she embraced her feelings of femi*ity.
When she came out as a female, Dylan's TikTok feed exploded in popularity. She garnered a lot of fame, thanks to a large part of a series that she created titled "Days of Girlhood". Dylan is earning millions of dollars since she first broke through in early 2022.
Other Ventures
The media personality and fellow trans woman, Caitlyn Jenner, has referred to Dylan in the past as an absurdity and accused her of exposing too much of herself in public.
That same month, in October 2022, Dylan met with U.S. President Joe Biden for an interview in which the two discussed trans rights. Two months later, Dylan announced triumphantly that it was surgery day.
After sharing several pictures of her recovery from her hospital bed in January 2023, Dylan finally introduced her new face. A few weeks later, Dylan's 365-day journey toward becoming a woman culminated with a live show in New York City.
Career Highlights
Amassing over 10 million followers on TikTok through sharing comedic content
The Book of Mormon (Broadway, 2020)
Days of Girlhood (TikTok series, 2022)
2022 TikTok Trailblazer Award _ Won
Dylan Mulvaney Net Worth
Dylan Mulvaney is one of the up-and-coming celebrities on social media. After turning herself, Dylan is explained how her fortune has turned to People Magazine. She is currently in the process of appearing on talk shows while also writing a couple of books.
In April 2023, Dylan got an endorsement deal with "Bud Light". Meanwhile, other popular brands including Kate Spade, Mac, Neutrogena, and many others have contacted Dylan to promote their products on social media.
She will of course continue making as much social media content as she can. Dylan considered turning "Days of Girlhood" into a podcast. As of 2023, Dylan Mulvaney's net worth is estimated to be $1.5 Million.
You May Like: