Duke Deuce is an American rapper and musician who has a net worth of $1 Million. He rose to fame after releasing his breakout single "Crunk Ain't Dead". That rack received remix and was produced by Memphis rappers Juicy J and Lil Jon.
Duke gained further recognition when his debut studio album "Duke Nukem" came out in February 2021. That project peaked at #3 on the Billboard Heatseekers Albums chart. He became the modern personification of "crunk rap".
What is Duke Deuce's Net Worth?
[table id=363 /]
Early Life
Patavious Lashun Isom aka Duke Deuce was born on May 1st, 1992 in Memphis, Tennessee. Growing up in that city, Duke found himself in a handful of street activities including drug dealing, and much more.
While growing up, Crunk music was always in his blood. It started when he first shared a room with his father, famed Memphis rapper, and producer named Duke Nitty. His dad worked with talents like Gangsta Blac, Nasty, Dem Thugs, and Mobb Lyfe.
Duke's grandparents were also very musically inclined and they traveled the country as members of a Gospel band. Being surrounded by all of this constant music gave Duke the confidence to pursue his own music career.
Career
Duke Deuce started taking his rap career more seriously following his graduation from Failry high school. Before launching his music career, Duke did a handful of odd jobs including UPS and many others. He has been rapping since 2010 but the breakthrough moment of his career came in 2018.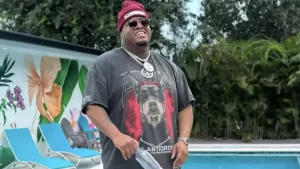 Breakthrough
Duke had a big break when his single "Whole Lotta" came out in January 2018. The song immediately became an online sensation, earning thousands of streams online.
It was the Duke's dance style that helped fuel the success of "Whole Lotta". Soon enough, the videos of other people emulating Duke's dance moves began proliferating on the internet including the famous dance crew "She Loves Michi".
That clip helped Duke advance his career when it caught the attention of rapper Offset from Migos. Deuce got a chance to meet Offset in Los Angeles and then signed a contract with Migos' label "Quality Control Music".
From that point on, he focussed his attention on crafting his first full-length mixtape which became 2018's "Memphis Massacre". A collection of songs that saw him collaborating with Offset, Project Pat, as well as producer Hitkidd. Surprisingly, Duke's father Nitty appeared on one of the tracks as well. Thanks to his success in music, Duke Deuce has a net worth of $1 Million.
Further Success
Duke came to popularity in 2019 when his other hit single "Yeh" was released. The official music video of the song was later dropped and produced by Ayoza. That video went viral, amassing over 5 million views on YouTube within six months.
In 2020, Deuce released "Memphis Massacre 2", a record that split the difference between the dark crunk of Three Six Mafia with the enthusiasm of Lil Jon. That project contains his single "Crunk Ain't Dead" which became a massive success.
The rapper then released his debut studio album titled "Duke Nukem" with appearances from Asap Freg, Young Dolph, and Fugiano, amongst others. From there, Duke began collaborating with other artists such as GloRilla to unleash their hit single "Just Say That" in early 2022.
Other Ventures
Duke had a difficult time in his life when the Covid hit, he got sick and was in a hospital. Around that time he was so discouraged and was not motivated to release more music.
Rather than back down, Duke focussed on expanding his business beyond music by partnering with Rock Ross to develop his own brand known as "Duke Skywalker".
Once the pandemic had finally been brought under control, Duke returned to set his sights on music. In early 2021, he signed with Motown Records while remaining a member of Mogos' Quality Control as well.
Afterward, Duke continued his discography by dropping his second studio album "Crunkstar" which came out in June 2022. In terms of live shows, he has brought his entire show on the road including his impressive dance moves.
Career Highlights
Whole Lotta (Song, 2018)
Memphis Massacre (First mixtape, 2018)
Duke Nukem (Debut album, 2021)
Duke Deuce Net Worth
Duke Deuce is one of the rising rappers in the music scene who came to the spotlight a couple of years ago. The rapper gained fame in early 2018 after dropping his single "Whole Lotta". It went viral and earned him a lot of attention.
Deuce mainly earns from releasing new music, performing on live shows, as well as collaborating with other artists. Additionally, his YouTube channel is a big contributor to his wealth. As of 2023, Duke Deuce's net worth is estimated to be $1 Million.
You May Like: