Digga D is a Britsh rapper who has a net worth of $3 Million. He rose to fame after becoming a member of the popular UK drills collective "1011". After releasing a handful of music, the group was renamed as "CGM". Digga became a breakthrough drill artist in his home country of the UK.
He established himself as one of the most talented drill artists in the British music industry. Digga is best recognized as one of the pioneers of the UK drill who worked with several high-profile artists.
Digga D earned mainstream success after releasing his mixtapes "Double Tap Diaries" and "Made In The Pyrex". Both of these projects garnered massive success by reaching #11 and # 3 on the UK Albums Chart, respectively. In April 2022, he dropped his third mixtape "Noughty By Nature" which became even more successful.
What is Digga D's Net Worth?
[table id=252 /]
Early Life
Rhys Herbert aka Digga D was born on June 29th, 2000, in Ladbroke Grove, West London, England, UK. He grew up listening to dancehall tunes as well as Jamaican reggae. As a result, he developed an interest in music and by the age of 12, he was writing his lyrics.
His family and friends further encouraged him to pursue a career in music. Despite the music, he also got himself wrapped up in street activities that landed him some cash alongside many troubles. At the age of 8, he was caught with cannabis at school and was kicked out.
Career
In the mid-2010s, Digga D formed his own collective the "1011" crew alongside some friends from a local youth club. The group was based at Ladbroke Grove, in West London. They gained some local underground buzz in 2016 with hit street anthems including "Play for the Pagans", "The Truth", and their breakthrough hit "No Hook".
That later track in particular highlighted Digga's unique flow and led him to become the big MC in the Ladbroke Grove crew 1011. The song "No Hook" was so skillful that it caught the attention of manager Bills. The manager quickly got in touch to help Digga and 1011 land a single on the mixtape "Madness".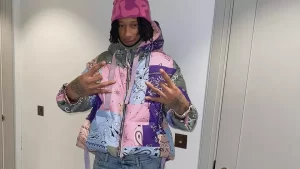 Breakthrough
The next breakthrough freestyle was the single "Next Up?" which was released in November 2017. Later in May 2019, Digga released his mixtape "Double Tap Diaries". It went on the chart at the 11 spots on the UK Official album charts, becoming the first drill project to reach those heights.
His mixtape "Double Tap Diaries" also contains a hit single "No Diet" which went viral, peaking at number 20 on the UK Singles Chart. Digga dropped another hit single "Woi" in July 2020, it was viewed over 24 million times and become one of the most impactful drill singles of that year.
His second mixtape "Made in the Pyrex" was released in Feb 2021. This album claimed all the way to number 3 on the UK Albums Chart, replacing his former mixtape as the newest highest-ranking independent UK Drill album ever.
Other Ventures
In April 2022, the rapper dropped another project "Noughty by Nature" which wound up peaking at number 1 on the UK Albums Chart. The guest appearances came from the likes of Hotboii, AJ Tracey, Maverick Sabre, and many others.
Upon his success in music, Digga launched his record label called "Black Money Records (BMR)" in September 2021. In the following month, he dropped his first single "Stay Inside" under his record label. Additionally, the rapper founded his merch line store.
Personal Life
Digga D has been in a relationship with the Instagram model, Mya Mills, since 2021. These two made headlines in May of 2021 and since then Digga gifted her expensive items including a Tago Birkin bag.
Before group 1011 would earn more success, Digga and four other members of the group were arrested at the end of that year. Digga and other members of the 1011 crew were convicted of conspiracy to commit violent disorder.
They were stopped and searched by police on the city streets while carrying baseball bats. The members of the crew claimed that they were on the way to film a new music video but the officers believed they were planning on attacking a rival crew. In 2018 Digga was released from jail after spending a brief period behind the bars.
Career Highlights
Next Up? (Song, 2017)
No Diet (Song, 2019)
Woi (Song, 2020)
Double Tap Diaries (Mixtape, 2019)
Made in the Pyrex (Mixtape, 2021)
Noughty by Nature (Mixtape, 2022)
2022 Broadcast Awards, Best Multichannel Programme _ Won
Digga D Net Worth
Digga D is a well-known artist in the industry who found himself in problems throughout his career. In 2018 he was released from prison. Soon after, "No Diet" a lead single from his debut mixtape "Double Tap Diaries" peaked at number 20 on the UK Charts.
Digga mainly earns from releasing hit singles, and albums, performing on live shows, collaborations with other artists, etc. His YouTube channel and merch line is a big contributor to his wealth. Not to mention, he also makes a handsome fortune from his record label. As of 2023, Digga D's net worth is estimated to be $3 million.
You May Like: