Danny Duncan is an American YouTube star, comedian, and actor who has a net worth of $8 Million. He is best recognized for his skateboarding and prank videos featuring his patented over-the-top sense of humor.
He rose to fame after creating his YouTube channel in 2014. Danny began uploading his incredible content on that channel and within a few years of hard work he earned millions of subscribers.
In 2016 he came to the spotlight when one of his videos titled, "Falling With 30,000 Pennies" went viral on YouTube. That video has managed to garner over 30 million views in 6 years. Apart from this platform, Danny is also popular on other social media outlets like Instagram, Twitter, etc.
What is Danny Duncan's Net Worth?
[table id=87 /]
Early Life
Garry Winthrope was born on July 27th, 1992, in Englewood, Florida. He was raised in the same city by his mother Sue Duncan, who split from his father Scott Duncan when Danny was still young. As a result, his mother worked as a bartender in the struggle to pay the bills.
Danny attended Lemon Bay High School where he developed an interest in sports. While in school he played baseball and even was a part of the wrestling team. He spent a lot of time learning the skateboard.
After graduating from high school Danny went to the State College of Florida. However, he dropped out after his second semester because he got bored. He picked up a job at a local Walgreens, but that didn't last long either.
Career
Danny was hired by Jason Lee to become his trainer for skateboarding. While working together, Jason quickly noticed that Danny had a unique and remarkable sense of humor.
Jason told Danny to create his YouTube and Instagram profiles to get exposure for possible acting gigs. Danny started his YouTube channel in March 2014 at the age of just 21.
He began posting videos but didn't gain any recognition until his video titled "Going Down Stairs On Hoover" was uploaded. In December 2015 that video was posted and it went viral, becoming his first video to receive over 1 million views.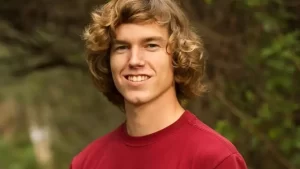 Breakthrough
In June 2016 Danny's other video, "Falling With 30,000 Pennies" got over 30 million views. By the end of 2017, Danny was making his first six-figure paycheck.
Outside of YouTube, Danny also created his own brand of clothing called, "Vir#inity Rocks" in 2017. Soon after he entered into a partnership with the popular retail store "ZUMIEZ" to expand his clothing business.
Besides this, Danny is looking forward to writing a book and finishing a documentary on his life. He's also developing a financial app, to become a Billionaire.
Today his merch store offers more than 100 unique products and Killer Merch has reported that they send out over 15,000 orders every month. His brand rocketed to such heights and earned him a lot of wealth.
Personal Life
Danny Duncan began his relationship with YouTuber Lindsey Bell. But their relationship didn't last long and it ended in 2015.
During high school, Danny was sent home in 2018 for wearing a Vir#inity Rock shirt. He immediately went to the town and handed out over 500 t-shirts right outside the school.
Cars
Real Estate
Danny Duncan has a net worth of $8 Million and he likes to spend money on luxury things. In 2017 he bought a lavish house for his mom. This property spans over 5 acres of land. Additionally, he bought a brand-new car, a Toyota Yaris for his sister.
In 2019 Danny spent $3.5 million on a luxury mansion in Beverly Grove, LA. This house features a gaming room, a cinema, massive bedrooms, baths, and a lot more.
Career Highlights
Going Down Stairs On Hoover, (First viral video)
Falling With 30,000 Pennies, (Video)
Vir#inity Rocks, (Merch line)
Danny Duncan Net Worth
Danny Duncan is an American YouTube personality and actor from Englewood, Florida. He was raised by his single mother Sue Duncan and also has a half-brother, Mathew. After dropping out of college, Danny moved out to Los Angeles with only $20 in his pocket.
In 2014 he began uploading videos on his YouTube channel. One of the first videos that went viral for him was titled "Going Down Stairs On Hoover." Over the last few years, he has built his brand and audience substantially. In mid-2017 Danny became a millionaire.
Danny earns mostly from his YouTube channel and his own clothing line. After establishing his brand, he began collaborating with Killer Merch who helped him design his product orders. As of 2023, Danny Duncan's net worth is estimated to be around $8 Million.
You May Like: