Can Yaman is a Turkish actor, model, and lawyer who has a net worth of $10 Million. He rose to fame after playing the lead role of Can Divit in the 2018 romantic comedy series "Erkenci Kuş (Early Bird)." His immense performance in the drama earned him worldwide recognition.
Yaman began his career in 2014 and established himself as one of the lead actors in the Turkish entertainment industry. He is one of the top five lead actors in showbiz and is known for his unique style, good physique, and handsome look.
He gained further popularity for playing lead roles in numerous hit TV shows. Apart from the TV he starred as Hasan Balaban in the 2023 Web Series "El Turco." In 2018 Yaman won the Golden Butterfly Awards for Best Romantic Comedy Actor and then continued to receive various nominations.
What is Can Yaman's Net Worth?
[table id=165 /]
Early Life
Can Yaman was born on November 8th, 1989, in Istanbul, Turkey, and was raised in a Muslim family. He is the only son of Güven Yaman and Güldem Yaman. At the age of 5, his parents separated. His uncle Fuat is a coach of the football clubs Bandırmaspor and Konyaspor. 
Yaman attended Bilfen College in Istanbul and then went on to graduate from Italian High School. Upon his high school graduation, he enrolled at Yeditepe University, obtaining a Law degree in 2012.
Prior to joining the University, Yaman also visited the United States where he learned the English language. Now he can speak different languages including Italian, German, Spanish, English, and of course Turkish.
Following his education, Yaman got his first gig at the PricewaterhouseCoopers corporation where he worked as an intern for 1 year. At the age of 24, he began working as an article writer for Dünya newspaper but it didn't last long. Soon he discovered that a career in the corporate law sector is not good for him.
Career
In 2014 Yaman began his acting career by appearing as Bedir in the Turkish drama series "Gönül Isleri" (Affairs of the Heart). His performance in the show earned him more acting gigs.
In the next year, Yaman had a starring role as Yalın Aras in "İnadına Aşk" which ran from 2015 to 2016. He starred as Tarık Çam in the popular series "Hangimiz Sevmedik" from 2016 to 2017. Around that time Yaman was getting major gigs in big productions and his popularity was growing rapidly.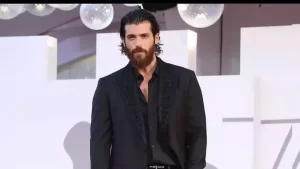 Breakthrough
In 2017 Yaman's breakout role came, appearing as a lead character as Ferit Aslan in the hit TV series "Dolunay" opposite actress Özge Gürel. From 2018 to 2019 Yaman gained worldwide recognition for his performance as Can Divit in the romantic comedy series "Erkenci Kuş."
He received several award nominations for Best Romantic Comedy Actor and many other categories. His role as Divit became popular with the audience due to his chemistry with Demet Ozdemir, making him an international sensation.
In 2020 he had the lead role of Özgür Atasoy in  Deniz Yorulmazer's short series "Bay Yanlış (Mr. Wrong)." In June 2020 the show premiered on FOX TV and it led the actor to receive LATAM PRODU 2020 Awards nominations for Best Actor.
Yaman made his guest appearance in the 2021 Italian television series "Che Dio ci Aiuti" and then a leading role in the series "Viola come il mare" in 2022. Eventually, Yaman became the personality and a breakout star to emerge from the Turkish entertainment business.
Other Ventures
Yaman is also a model and was featured in singer Gülnur Gökçe's music video "Porselen Düşler" in 2013. Despite this, he served as the brand ambassador of TUDORS from 2020 to 2022. He launched his own perfume brand called "Mania."
Along with his appearance on TV shows, Yaman continued to appear in TV commercials for brands including Digital Banking platform: CepteTEB, a mobile company Trendyol, Desa Fashion, Pasha Fencer, De Cecco, Mercedes-Benz, Disney+, Dolce & Gabbana. 
Car Collection
Volkswagen Touareg
BMW M4
Rolls Royce Wraith
Range Rover Velar
Real Estate
Yaman has a net worth of a whopping $10 million and the actor owns a lavish house located in his native country, Turkey. This mid-Italian style mansion spans over 6,000 square feet and featured 5 bedrooms, 7 bathrooms, a swimming pool, a massive car garage, a fireplace, and a beautiful terrace.
Career Highlights
Being named "Rising Actor of the Year" by GQ Turkey in 2018
2018 Golden Butterfly Awards, Best Romantic Comedy Actor _ Won
2019 Golden Star Awards, Best TV Series Actor _ Won
2019 Murex d'Or, Best Foreign Actor _ Won
2022 Filming Italy Best Film 2022, International Award _ Won
Erkenci Kuş (Early Bird) (TV series 2018-2019)
Can Yaman Net Worth
Yaman is one of the highest-paid actors in the Turkish film industry. He started his professional acting career in 2014 and earned massive popularity in a short period. His performance in the series "Erkenci Kuş" led him to become the breakout star in the country.
Yaman is also popular on social media and has over 10 million followers on Instagram. His source of income comes from various sources including television and web series, commercials, brand endorsements, as well as business ventures. As of 2023, Can Yaman's net worth is estimated to be $10 Million.
You May Like: