Calum Scott's Net Worth is estimated to be $4 Million. He is well well-known English singer and songwriter from England. The British singer came to popularity in the year 2015 when he participated as a contestant in the popular reality show "Britain's Got Talent". 
On this ITV talent show, Calum is known for performing his version of Robyn's hit single "Dancing on My Own". His incredible performance wound up earning a lot of popularity all around the world. He finished sixth in the show.
In the following year, Calum released his version of the song "Dancing on My Own" which went viral peaking at #2 on the UK Singles Chart. Additionally, the song became Britain's best-selling single of the year 2016. Next year he got an opportunity to sign a deal with Capitol Records. Under the contract, he continued to release more hit tracks and projects.
What is Calum Scott's Net Worth?
[table id=32 /]
Early Life
Calum Scott was born in Kingston upon Hull, East Yorkshire, England, on October 12, 1988. He spent his childhood in the Yorkshire region, more specifically in Kingston upon Hull and North Ferriby.
Calum grew up alongside his younger sister Jade Scott. His sister is also pursuing a career in the music industry as a singer. His father Kevin Scott and his mother Debbie Scott were separated when he was just 2 years old.
Following this Calum's father decided to move to Canada. Growing up he developed an interest in playing drums but later his younger sister encouraged him to try his hand at singing. Calum also used to work in human resources before starting his music career.
Career
In August of 2013, the English News Paper Hull Daily Mail organized the talent competition " Mail's Star Search" in which Calum participated. After winning that competition he joined the local band known as Maroon 4 and began touring with them all around the UK.
In the following year, he quit his job to pursue his dream of becoming a singer. Around the same time, he teamed up with John McIntyre and formed an electronic duo called The Experiment. The two released their first song "Girl (You're Beautiful)" in June 2014.
Together they also performed that song on BBC Look North and Good Morning Britain but shortly thereafter the duo broke up. Then the turning point of Calum's career came in April 2015 when he and his sister auditioned for Britain's Got Talent's ninth series.
Britain's Got Talent
Just before he would go for the audition, Calum's sister Jade went to try her luck but she received no from all judges including Simon Cowell, David Walliams, Alesha Dixon, and Amanda.
Following his sister's rejection, Calum Scott decided to perform Robyn's "Dancing on My Own". Cowell immediately pressed the Golden Buzzer by sending him to the live shows. Following his audition some of the big stars like Ashton Kutcher and Little Mix supported him.
From that point forward Calum started gaining popularity all around the world and his social media (Twitter) followers went from 400 to 25k. In addition, his audition video went viral amassing almost 500 million views.
Later on May 30, 2015, he appeared in the semi-finals where he performed Jermaine Stewart's "We Don't Have to Take Our Clothes Off". He won the semi-final which led him straight to the finals. Scott performed singer Rihanna's hit song "Diamonds" and finished sixth out of twelve participants.
Breakthrough
In April 2016 Calum dropped his cover of "Dancing On My Own" which became one of his biggest successes selling over 600 thousand copies as well as reaching #2 on the UK Singles Chart. His song grabbed the attention of Capitol Records with whom he signed.
Scott also got a chance to perform his songs on different TV shows like BBC Look North, Weekend, Late Night with Seth Meyers, and many more. Later he collaborated with Brazilian artist Ivete Sangalo to record the promotional single "Transformar". They performed that song at the closing ceremony of the "2016 Summer Paralympics".
In 2017 Scott embarked on a tour in the United States and also dropped the track "You Are the Reason". Following the success of the song, he released a new version of the song in collaboration with Leona Lewis. The song "You Are the Reason" saw success on the UK Albums Chart reaching #4. Calum Scott earned a net worth of $4 million through his music career.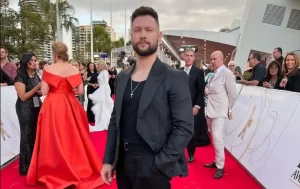 Further Success
In March 2018, he eventually released his debut album titled "Only Human" which contains a couple of hit singles like "What I Miss Most". Around the same year, Calum released the track "No Matter What" which earned over 123 million views on YouTube within 4 years of its release.
"Only Acoustic" was Scott's first EP which he released in March 2021. He also dropped two more extended plays "Only Collabs" and "Only Love" in the following month.
In April 2022, Calum announced that he is working on his second studio album "Bridges". He released its tracks in later 2021 which include "Biblical", "Rise", "If You Ever Change Your Mind", "Heaven", and more.
In July 2021, Calum released another hit single "Where Are You Now" which became a success. That track spent several months on various streaming platforms in different countries as well and it reached the top 10 of the UK Singles Chart. Later that year, Scott teamed up with fellow singer Jasmine Thompson to record the song "Love Is Just a Word".
Career Highlights
Here are some of the best highlights of Calum Scott's career:
Britain's Got Talent (Participant, 2015)
Dancing on My Own (Song, 2016)
You Are the Reason (Song, 2017)
No Matter What (Song, 2018)
Only Human (Debut album, 2018)
Where Are You Now (Song, 2021)
Brit Awards – "British Single of the Year" – (song, Dancing on My Own) – Nomination
British LGBT Awards – "Metro Guilty Pleasures Award" – (Himself) – Won
Calum Scott Net Worth
As of 2023, Calum Scott's Net Worth is reported to be around $4 million. He is just at the beginning of his singing career, and he is one of the few rising stars in music. The success of his career started back in 2015 when he joined Britain's Got Talent.
Over the years Calum garnered a lot of popularity and wealth by releasing multiple tracks and hit albums. The majority of his capital comes from his YouTube channel as well as live concerts, album sales, worldwide tours, and through labels. His yearly salary is estimated at $1 million.
You May Like: