Bryson Tiller is an American singer, songwriter, and rapper with a net worth of $3 Million. He rose to fame after releasing his debut single "Don't" in 2015. That track earned him mainstream success after reaching the top 20 spot on the Billboard Hot 100.
Tiller initially started his music career in 2011 when he dropped his first mixtape "Killer Instinct Vol. 1". The rapper gained further recognition with his 2017 studio album "True to Self" which became a massive success. Around that time, he was touring across America and all over Europe.
What is Bryson Tiller's Net Worth?
[table id=332 /]
Early Life
Bryson Djuan Tiller was born on January 2nd, 1993, in Louisville, Kentucky. His mother died when he was only four years old. He has four siblings but they were split up after his mother's passing. Tiller and his younger brother Eric went to live with their grandmother.
Bryson also spent his time playing video games. By the age of 15, his interest expanded and he fell in love with making music. While in the ninth grade, he was invited by one of his friends. The two teamed up and recorded their first track Usher's "Lovers and Friends".
In terms of education, Bryson graduated from Iroquois High School in June 2020. However, he previously dropped out of high school and spent all his time in a local studio. He is even signed to an independent local label that gave him enough money to justify this decision.
Career
In 2013, Bryson had a daughter so he decided to give music a break and got a real job. He started working for UPS. But, soon he realized that the money he was earning wasn't enough for his family. So, he picked up some night shifts at Papa John's Pizza.
Before this, Bryson dropped his first mixtape "Killer Instinct Vol.1" in 2011 at the age of 17. Later, he took a few years' break from music and worked a handful of jobs. In 2014, he got back into the studio and recorded his track "Don't".
He uploaded that single on SoundCloud in October of that year and it went viral. That track caught the attention of record producer, Timbaland. Soon, the song was released on iTunes in May 2015 and grabbed the attention of nonother than Drake, who offered him to sign a deal on his OVO Sound record label.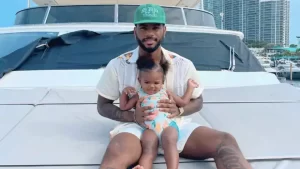 Breakthrough
Bryson declined Drake's label and wound up signing with RCA Records. He continued to work on his debut studio album titled "Trapsoul". That project was released in October 2015 and it climbed the charts at number 11 on the US Billboard 200 upon its release.
Followed by a Nationwide and European tour. The album also included Tiller's debut single "Don't" as well as the album's second single "Exchange" which became a massive hit. "Sorry Not Sorry" was the third single from the album which peaked at #67 on the Billboard Hot 100.
In May 2017, Bryson released his second studio album, "True to Self" which contains songs like "Honey", "Somethin Tells Me" and more. The album wound up reaching the top spot on Billboard 200 charts as well as becoming his debut number-one album in the United States.
The rapper dropped his third studio album, "Anniversary" in October 2020. The featuring appearances for the album came from the likes of Drake and Big Sean among others. Bryson followed that up by releasing the deluxe Anniversary in Feb 2021. Bryson Tiller has a net worth of $3 Million.
Other Ventures
In November 2021, his first Christmas album "A Different Christmas" came out. According to Bryson, the project was inspired by Justin Bieber and Ariana Grande. Despite releasing his music, Tiller often collabs with other artists.
In 2017, the rapper was invited by DJ Khaled to appear in his hit single "Wild Thoughts" alongside Rihanna. That track peaked at #2 on the Billboard Hot 100.
Bryson began taking notice of other artists including R. Kelly, The Dream, Lil Wayne, and later Drake as well as Chris Brown. But above all, it was the singer Omarion who had the biggest impact on Bryson's career.
Personal Life
Bryson started dating a woman named Markea Bivens several years ago. The two welcomed their first daughter Harley in 2013. However, their relationship didn't last long and the two were separated by the time. In 2018, Bryson and Kendra Bailey started their romantic relationship and later had a daughter.
Career Highlights
Don't (Debut Single, 2015)
Trapsoul (First album, 2015)
True to Self (Second album, 2017)
Wild Thoughts (DJ Khaled's song, 2017)
2016 American Music Awards _ Nominations
2016-2018 BET Awards _ Won
2017 BET Hip Hop Award, Best Collabo, Duo or Group _ Won
2017-2018 Billboard Music Awards _ Nominations
2017-2020-2022 Grammy Awards _ Nomination
2017 Soul Train Music Award, Best Collaboration _ Won
Bryson Tiller Net Worth
Bryson Tiller is one of the most prominent singers in the American music industry. He began his career at the age of 15 and gained popularity by 17. His 2014 single "Don't" led him to earn mainstream success.
Bryson has already accumulated a lot of wealth and fortune from his successful music career. Apart from that, he also earns from other ventures including commercials, brand endorsements, etc. As of 2023, Bryson Tiller's net worth is estimated to be $3 Million.
You May Like: