Bryant Myers is a Puerto Rican Latin reggaeton and trap singer who has a net worth of $4 Million. He is best known for releasing music on his self-titled SoundCloud account. Bryant gained popularity in her hometown after releasing his single "Esclava".
The rapper came to the spotlight when he was featured on Maluma's super hit song "Cuatro Babys" in 2016. It was a massive success, peaking on the Billboard Hot Latin Songs chart, at number 15 as well as being certified 4× Platinum by RIAA.
What is Bryant Myers' Net Worth?
[table id=436 /]
Early Life
Bryan Robert Rohena Pérez was born on April 5th, 1998, in Carolina, Puerto Rico. He was raised alongside his brother by his single mother in a very humble neighborhood environment.
While growing up the family faced financial problems and many times they did not have money to eat breakfast. He was also a good student and received a scholarship for playing basketball. He played this particular game until he got injured and this made him demotivated.
Bryant developed an interest in music at an early age, despite the fact his mom did not want him to enter the world of music and preferred that he joined the University.
However, Bryant's mother ended up allowing him and always supported him unconditionally. Bryant was always involved in music since he was studying in school and was part of the dance groups. He decided to leave the school to focus on making music full-time.
Career
The first song Bryant wrote, sings and recorded was "Esclava" which he dropped at the age of 16. That song caught the attention of some famous urban and reggaeton artists and it became a success some time later. Bryant did a remix of Esclava with Anonimus, Anuel AA, and Almighty.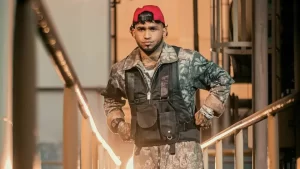 Breakthrough
Following the release of Esclava, his career took off and he began recording with greats of the urban genre such as Arcángel, Farruko, Randy Ortiz, and others. The remix version of Esclava went viral on YouTube amassing over 320 million views.
Bryant followed this up by releasing more hit singles including Tu Me Enamoraste and De Camino a Marte. The rapper gained more popularity in June 2016 when his single Vente Encima came out. For this track, he collaborated with Anonimus, Noriel, and Riko.
In July 2018, the rapper dropped his first studio album "La Oscuridad" followed by his second project "Bendecido" which came out in 2020. Bryant Myers accumulated a net worth of $4 million.
Other Ventures
Aside from releasing his music, Bryant Myers also collabs with other artists. One of his most popular collaborations was in July 2016 with Farruko. He was featured on the breakout single "Ella y Yo" alongside other big artists Anuel AA and Almighty.
Later that year, Bryant's hit single Esclava was re-released as a digital download. At the end of 2016, he recorded with Bad Bunny for the song "Pa' Ti", becoming one of the most romantic songs of Bryant.
Bryant starred in Maluma's hit single "Cuatro Babys" which has been the most controversial song of Maluma's career. But despite the criticism, the music video for the song has over 1 billion views on YouTube.
Career Highlights
Esclava (Song, 2016)
Esclava Remix (With Anuel AA, 2016)
Cuatro Babys (Maluma's single, 2016)
La Oscuridad (Debut album, 2018)
Bryant Myers Net Worth
Bryant Myers was named the rapper emerging number one in Miami by New Times. He began his musical journey in 2015 and now became one of the most popular names in the Puerto Rican community.
The rapper is at the beginning of his career and has already worked with respective artists like Maluma, Bad Bunny, and more. At the age of 19, he found himself being one of the youngest and mode well-known representatives of the genre.
Bryant mainly earns from music sales, live shows, tours, collaborations with other artists, as well as brand endorsements. His YouTube channel is another big source of his income where he garnered over 8.5 million subscribers. As of 2023, Bryant Myers' net worth is estimated to be $4 Million.
You May Like