Babyface Ray is an American rapper who has a net worth of $1 Million. He rose to fame after collaborating with  G. T. for the project titled "Gt X Mia". Babyface is one of Michigan's most impactful rappers and increased his relevancy every year of his career.
The rapper would go from an unknown artist to now commonly referenced as one of the most prominent names in the Detroit rap scene. His music caught the attention of other high-profile artists with whom he collaborated including Yung Lean, G Herbo, 42 Dugg, Pusha T, Wiz Khalifa, and many more.
What is Babyface Ray's Net Worth?
| | |
| --- | --- |
| Net Worth | $1 Million |
| Age | 32 |
| Born | February 7, 1991 |
| Profession | Rapper |
| Country | United States of America |
| Salary (Annual) | $400,000 |
| Last Updated | 2023 |
Early Life
Marcellus Rayvon Register aka Babyface Ray was born on February 7th, 1991, in the city of Detroit, Michigan. As a kid, he had an interest in sports including basketball and football.
Outside of his participation in sports, Babyface also had a love for music. He discovered hip hop for the first time in 8th grade and was inspired by local artists like Rock Bottom, Stretch Money, and Blade Icewood.
He had practiced his rap skills throughout his high school, performing under the moniker like Chaos the Kid and Riche Rich Ray. Eventually, he got the perfect moniker for himself called "Babyface Ray".
While Ray was developing an interest in music, his father Randal lost his job. His older brother was imprisoned and his mom was diagnosed with cancer. Ray is the youngest of four brothers. He was only left in the house by the time he started going to high school.
Career
Babyface Ray began rapping after he met Detroit artist Peezy. Upon his high school graduation, Ray and Peezy alongside five others formed the rap collective known as "Team Eastside" in 2010. They released singles like "Work" and "Sold Not Told" which got played regularly at clubs all around the city of Detroit.
In the mid-2010s Babyface Ray and the other members of Team Eastside split apart to follow their own paths. During this time Ray transitioned from being just another face and a rap collective to becoming one of Detroit's most iconic artists.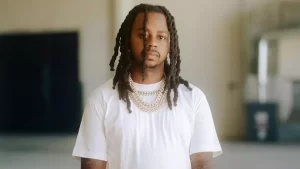 Breakthrough
Babyface Ray came to the spotlight when he released his mixtapes "Young Wavy" and "MIA Season" a year later. Both of these projects showed a melodic approach to a sound that highlighted Ray's new and more relaxed flow.
From that point on, Ray continued to release one project after another with titles including "Trillest" in 2017, and then "Mia Season 2" in 2019. All of these mixtapes turned him into the king of the Detroit rap scene. He also released his biggest hit song yet titled "Paperwork Party" in 2020.
The following year his debut EP charted on the Billboard 200. In 2022, he dropped a 20-track full-length project titled "Face" which featured the likes of Pusha T, G Herbo, and 42 Dugg. The project reached 31 spots on the Billboard 200 also becoming Ray's best-selling album to date.
Other Ventures
Outside of releasing his own music, Ray began sharing his knowledge and resources on the craft with the rising generation of young Detroit and Michigan artists. He played a huge role in rapper 42 Dugg's life by helping him to sign with Yo Gotti's label CMG.
He also helped build the White House Studio which is where young artists like Los and T-Nutty record their music. This studio now become one of the known cultural spots in the entire city. Babyface Ray signed a distribution deal with Empire.
Career Highlights
MIA Season (Mixtape, 2015)
MIA Season 2 (Mixtape, 2019)
Paperwork Party (Song, 2020)
Debut EP, 2020
Being listed in the 2022 XXL Freshman class
Babyface Ray Net Worth
Babyface Ray is a successful rapper in the music industry who accumulated massive fame throughout his career. He established himself as one of the up-and-coming names in the world of music.
The rapper mainly earns from music, such as releasing hit projects and performing live shows. etc. His YouTube channel and collaborations with other artists are also big contributors to his wealth. As of 2023, Babyface Ray's net worth is estimated to be $1 Million.
You May Like: