Asian Doll is an American rapper who has a net worth of $500,000. She is best known for being the first artist to sign a contract with Gucci Mane's record label "1017 Es*imo Records." Her hit singles like "Poppin", "Crunch Time", and "Pull Up" (feat. King Von), earned her popularity in the music industry.
Asian Doll collaborated with many big names including Bhad Bhabie, Lil Yachty, Lil Baby, Pnb Rock, YBN Nahmir, and Cuban Doll. Apart from earning success in music, she has over 4 million followers on her Instagram account alone.
Doll is the type of girl who was born to be famous whether it's her fire Instagram post or ono-stop production of new music. The rapper has been putting in the work and turning heads. She made a name for herself in the industry through her appearance in hit singles.
What is Asian Doll's Net Worth?
[table id=253 /]
Early Life
Misharron Jermeisha Allen aka Asian Doll was born on December 7th, 1996, in Dallas, Texas, USA. She grew up with three siblings and a single mother. Her father is of partial Asian heritage and was in and out of prison during Allen's childhood.
Her mother at one time was also a rapper, rhyming under the name Killa K. However, the family's financial situation was not good, although her father had a lot of money. During her teens, she was known for her own unique sense of style and described herself as a trendsetter.
Besides being an early influencer, Asian Doll was also a troubled teen. She has claimed to be associated with the Crips going by the nickname Mama in the 10th grade. She was kicked out of high school after being involved in fights with fellow students.
Career
Asian Doll took inspiration from Nicki Minaj and began recording music in a local studio. She quickly adopted the new moniker of "Asian Doll" and continued to record music. Her school life changed drastically when she began releasing music.
She recalls students rapping along to her lyrics and praising her abilities. As a result of her rising fame, she eventually dropped out of high school in her senior year.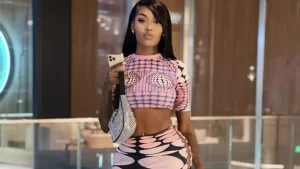 Breakthrough
In December 2015, the rapper released her debut mixtape "Da Rise of Barbie Doll Gang Empire". That project received traction on SoundCloud. In 2016 she kept the momentum moving with albums titled "Drippin in Glo" as well as "Project Princess Vol. 1."
In 2017, Asian Doll released two more projects titled "OuttaSpace" and "Kill Bill, Vol. 1". The very next year, she announced she was signed to Gucci Mane's label, being the first female artist on the label. The two worked on a joint mixtape.
In 2018 and 2019 Doll released two mixtapes "So Icy Princess" and "UNFUCCWITABLE". Her first EP "Doll SZN Reloaded" was released in April 2020. Asian Doll has a net worth of $500,000.
Other Ventures
Around 2016, her social media following flourished and she got the chance to collaborate with other big artists in the rap community. This included artists such as Chicago producer Lil Mister who soon became one of her most active producers.
Asian Doll did a song with late rapper Pnb Rock. She developed a reputation for having a rather mysterious public persona, becoming known for the colorful fashion sense she grew up with. She drew close comparisons to her idol Nicki Minaj.
Asian Dollo relocated from Dallas moving briefly to California as well as Atlanta. She then planned later to move to New Jersey to be close to the New York industry.
Personal Life
Asian Doll was in an on-and-off relationship with the famous late rapper King Von. In November 2020, the rapper King Von passed away, and as a result, Asian Doll was in a depression in early 2021.
Career Highlights
Da Rise of Barbie Doll Gang Empire (Debut mixtape, 2015)
So Icy Princess (Mixtape, 2018)
Fight Night (Mixtape, 2019)
Unfuccwitable (Mixtape, 2019)
Chun-Li Challenge (Song, 2017)
Doll SZN Reloaded (First EP, 2020)
Truth (Song, 2019)
Come Find Me (Song, 2020)
Asian Doll Net Worth
Asian Doll is one of the rising stars in the American music industry. She accumulated a lot of wealth through releasing songs as well as her appearance in music videos.
The rapper came to the spotlight in 2015 following the release of her first mixtape "Da Rise of Barbie Doll Gang Empire". She is probably best known for her relationship with the late rapper King Von.
In April 2020, she teamed up with her boyfriend Von to release a music video titled "Asian Doll & King Von – Pull Up". That song earned over 24 million views on her channel. As of 2023, Asian Doll's net worth is estimated to be $500,000.