Arianny Celeste is an American model and ring girl who has a net worth of $3 Million. She is best known for being one of the most recognized ring girls for UFC. Following her popularity, she continued receiving one modeling gig after another.
Celeste got a chance to pose for numerous high-end magazines including Playb0y, Maxim & FHM. 2010 was the biggest year for her in which she was named Lady of the Day by Sports Illustrated as well as Ring Girl of the Year by MMA Awards. Arianny broke the records as Ring Girl Of The Year for the fifth time.
What is Arianny Celeste's Net Worth?
[table id=569 /]
Early Life
Penelope López Márquez a.k.a Arianny Celeste was born on November 12th, 1985, in Las Vegas, Nevada. Her father was of Filipino descent and her mother Mexican. Growing up her family was very strict.
Her dad passed away when young Arianny was just 5 years old. Since then, it was just Arianny her mother, and her sisters scrapping by to stay on top of the bills. She was given the nickname "Arianny" when she was just a kid.
Arianny graduated from Palo Verde High School in Nevada. After that, she enrolled at the University of Nevada-Las Vegas. Growing up, she had an interest in health and fitness which resulted in to pursue her studies on that same path. At the University, she wound up majoring in fitness management and nutrition.
Career
Her beauty and mixed ethnicity have been turning heads for some time. Her mother recalls being stopped on the streets when she was just a toddler for people to remark why she is so pretty. This resulted in Arianny getting involved in modeling at an early age.
When Arianny was 4 months old, she got a modeling gig, appearing in a commercial for a car seat company. During high school, she tried her hand at dance, cheerleading, and gymnastics.
While in College, Arianny worked as a model and got the call to audition as a Ring Girl for the UFC (Ultimate Fighting Championship). At this time, she knew nothing about the sport and she was up against 30 or 40 other girls for the coveted role.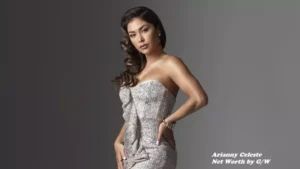 Breakthrough
In 2006 Arianny made her debut as a "UFC Octagon girl" in Paradise, Nevada. After she did her first time as the ring girl, Dana asked her back a second time. Soon after, Arianny was hired full-time. Later, the Fighter's Only Magazine named her "2006 Ring Girl of the Year".
In 2008, Arianny was offered to pose for Playboy but turned down the offer. That same year at the first World MMA Awards she was voted "2008 Ring Girl of the Year". For this Award, Arianny has gone on to dominate again in 2009, 2010, 2011, and then 2014.
In 2010, Arianny finally accepted Playboy's offer and made it onto the cover. After that, Arianny started featuring in popular magazines including Sports Illustrated, FHM, Maxim, and many others.
Other Ventures
Aside from modeling work, Arianny appeared in several films and TV shows. In 2012 she had an appearance as a special guest in the comedy series Tosh.0. Later that year, she was seen in a comedy panel show The Burn with Jeff Ross.
From 2012 to 2013 Arianny was the host of the Web Series, "UFC Ultimate Insider". Next year, she appeared on the talk show "The Playboy Morning Show". Not to mention, she also hosted the American automotive reality TV series "Overhaulin".
As for films, Arianny had uncredited roles in the 2012 film Here Comes the Boom and 2015's Girl House. The model has been featured in numerous video games from 2010 to 2018, some of them are UFC Undisputed 3, UFC Undisputed 2010, EA Sports UFC, and EA Sports UFC 2. '
You May Like
Personal Life
Arianny got herself into some trouble in 2012 when she kicked her then-fiance in the nose. As a result, she was arrested after having some domestic violence charges. She later went on to say that her fiance Praveen Chandra had been physically violent towards her.
Besides this, Arianny went into another altercation with American professional wrestler Ronda Rousey. The two would exchange some heated words but in the end, Arianny backed away.
Career Highlights
Being featured in high-class publications Maxim, Sports Illustrated, FHM, & Playboy
Ring girl for UFC
Ranked number 23 on Maxim's Hottest 100 List (2010)
Maxim's "Hottest UFC Octagon Girl" (2010)
Arianny Celeste Net Worth
Arianny Celeste is a model who came to the spotlight after becoming UFC's most popular ring girl. Since then, she starred in numerous films and TV shows. Following her success, she continued to earn offers from high-end brands.
The main source of her income comes from the fashion world, appearing in numerous commercials. She accumulated a vast chunk of money by being featured in Playboy and on the covers of other magazines.
Celeste did advertisement work for famous brands like Ashley Borden, MusclePharm, Levis, Victoria's Secret, JACO Merch, and F3 Nutrition. As of 2023, Arianny Celeste's net worth is estimated to be $3 Million.