Alodia Gosiengfiao is a Filipino cosplayer, model, and singer who has a net worth of $4 Million. She came to the spotlight after being named as one of the Most Influential Women in the Philippines by DOS Magazine. 
Later, she started getting offers from big companies to sign a contract with them. Alodia became VJ and ambassador of the popular television network "Animax Asia".
She has been featured in numerous high-end publications which earned a lot of revenue and fame. Alodia appeared on FHM's "100 Sexiest Women poll" ranking #87 in 2009 and moving to #20 in 2012.
What is Alodia Gosiengfiao's Net Worth?
[table id=578 /]
Early Life
Alodia Gosiengfiao was born on March 9th, 1988, in the Philippines. Her full name is "Alodía Almira Arraiza Gosiengfiao-Quimbo". Alodia's mother Mariglor Arraiza was of Filipino Spanish descent and her father Ed Gosiengfiao was of Filipino Chinese descent, so she has a mixed background.
She has a younger sister named Ashley who also followed the footsteps of her elder sister and became a cosplayer. As a kid, Alodia was interested in different things such as art, fashion, and collecting. She also played the piano along with her sister.
From preschool to grade 2, she attended Assumption College in Makati. From grade 3 to the end of grade 12, she went to Miriam College. While studying, Alodia was a member of the high school pep squad and was always very fashion-forward.
Career
Alodia began her career by entering the fashion world when she was selected for the Aventine advisory council. That was made up of the youthful and savvy teens who would sit on a council and advise the makeup company "Avon".
Her work with the makeup brand gave Alodia the opportunity for small modeling gigs. As a part-time job, she was in high school, she used her artistic talents to her advantage and did commissions for online clients. Alodia specialized in both traditional and digital artwork media.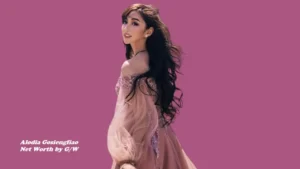 Breakthrough
At the age of 15, Alodia joined an internet forum called "Animé Club". It was there that she was introduced to the world of cosplay. She dressed up for the first time as a Priestess from a multiplayer online role-play game Ragnarok Online. The convention was called "Ragnalaunch" and it was held at a big shopping mall in Glorietta.
From that point forward, she was hooked on the world of cosplay, she began to attend more conventions and entered competitions. That same year, she began to draw a lot of attention to herself when she won third place in the 2003 C3 Convention as Gun Mage Rikku from the Final Fantasy franchise.
Following her success, Alodia and her sister Ashley were featured on the cover 14th issue of "Culture Crash Magazine, a manga publication published in the Philippines.
Further Success
Despite her increasing popularity, Alodia went on to pursue a BFA degree in informative design at Ateneo de Manila University where she graduated in 2009. During her University years, she continued to contribute to the cosmic community in the Philippines.
Afterward, she and her sister were invited to represent the country in November 2009 at the Suntec Convention Hall in Singapore. There she was seen hosting the Anime Festival Asia Regional Cosplay Championship. Alodia cosplayed as Masane Amaha from the Anime series Witchblade.
In 2010 Alodia alongside her sister was chosen by Animax Asia, a premium TV network to be their next ambassador and VJ. The spot paved the way for her role as the host of the BS-CBN prank TV show called "Laugh Out Loud". Alodia Gosiengfiao's net worth is rapidly increasing every year, thanks to her partnerships with brands and her YouTube channel.
Other Ventures
Alodia created her Twitch and began streaming video games in 2014. Soon, she caught the attention of big names and garnered millions of followers. After that, she continued to receive one brand deal after another.
During her streams, she began endorsing high-end brands including Sony PlayStation Asia, Acer Predator, and many others. In early 2017 Alodia teamed up with Tryke Gutierrez to found the first gaming and esports agency named "Tier One Entertainment".
Gosiengfiao gained viral attention in December 2018 when her Mobile Legends gaming stream interrupted the Facebook stream of Italian Deputy Prime Minister named Matteo Salvini, as reported by Italian news. As a result, more than 12k viewers of Salvini are video-chained to her gaming stream.
In February 2020, Alodia reached the peak of her career by signing a deal with "Lyceum of The Philippines University" to collaborate with her agency "Tier One Entertainment" in developing an Esports curriculum.
Personal Life
Alodia was previously in a relationship with YouTuber Will Dasovich. In early 2022, Alodia and Christopher Quimbo started dating. The couple announced their engagement in July 2022 before getting married in February 2023.
Career Highlights
Being ranked at number 87 in the "100 Sexiest Women Poll" by FHM Magazine
Being VJ and Ambassador of "Animax-Asia"
Most Influential Women in the Philippines _ Named by DOS Publication
Alodia Gosiengfiao Net Worth
Alodia Gosiengfiao is known for becoming one of the most recognizable cosplay models in the world. She had been featured in several magazines some of which include Candy, Game, and Preview Magazine. 
Gosiengfiao was immediately interested in all things technology and artsy. Her favorite thing to do was play video games from an early age. In high school, she was a member of her school's prep squad.
The turning point of her career came at 15 when her friends from an online form introduced the world of cosplaying. Additionally, her friends encouraged her to go to her first convention.
She went on to win several awards and made a name for herself as one of the Philippines' top cosplayers. She mainly earns from her collaborations with big companies as well as brand endorsements. As of 2023, Alodia Gosiengfiao's net worth is estimated to be $4 Million.
You May Like