Adam Calhoun is an American rapper, singer, and comedian who has a net worth of $5 Million. He is known for being one of the most recognized social media personalities on the internet.
Calhoun is a rising artist in music who is popular for combining the classical styles of American country music with the lyrical gymnastics of a first-class artist. Adam rose to fame when he teamed up with fellow artist Tom MacDonald to release a collaborative album called "The Brave" in 2022.
Despite this, Calhoun released a handful of albums that allowed him to grab the attention of a larger audience. Following the success of "The Brave," he dropped a new album "Country Rap Tunes." Apart from being a rapper, Calhoun is also a motivational speaker who encourages his fans on social media.
What is Adam Calhoun's Net Worth?
[table id=230 /]
Early Life
Adam Theodore Calhoun was born on September 5th, 1980, in Seattle, Washington, USA. He was raised by a single mother after his dad left the family when he was still a kid. By the age of 19 Adam had his first son with his girlfriend named Brandy.
Adam did not belong to the family of music but he took his singing career more seriously when he got separated from his girlfriend. His ex-wife Brandy took full custody of their child and Adam left the town and began focusing on his music career.
Unfortunately, he had a heated debate with an on-duty officer and he punched the face of the police officer. As a result, he was sent to jail at the age of 26. Following his release from jail, he began living with his mother. When his son Tamen was 10 years old, Adam took full custody. Around that same time, he lost his job and then began working day and night to pay the bills.
Career
Adam kicked start his career as a social media personality and began posting content on different platforms, including YouTube, Instagram, etc. He joined YouTube in August 2013 and later began uploading videos about music and other content. Most of his videos garnered over 2 million views and also have nearly 1.5 million subscribers.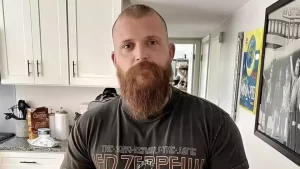 Breakthrough
Calhoun got a chance to perform with country rapper Hosier in his album "Made in America" in 2017. The two dropped a single titled "Salute the Brave" which went viral reaching number 46 on the Hot Country Songs. He gained enough popularity as a rapper in the American music industry.
Upon his success, Calhoun came up as a solo singer, releasing his full-length album "AmerAcal" in 2018. He followed that up with the release of his second album "The Throne" that same year.
Adam earned mainstream success with his third solo album "War" which was released in July 2019. The project was a commercial success, becoming the 2nd best-selling country album after selling over 3,200 copies. Additionally, this album received 3rd best-selling rap album of the week status.
Other Ventures
Apart from releasing music as a solo artist, Adam Calhoun has collaborated with several other artists. In 2020 he teamed up with American rapper Struggle Jennings to release the album "Legend." He also worked with the likes of Ryan Upchurch, Hooligan, Tom MacDonald, and more.
Personal Life
Adam began his relationship with his longtime girlfriend Brandy and the two welcomed their first song Tamen when Adam was 19 years old. However, his relationship with Brandy didn't last long and the two were separated when their son was 1 year old.
Later, Adam and Margie Naatz began dating and got married. The couple is living a luxurious lifestyle in Frankfort, Illinois with their daughter named Grae Millie, born in September 2021.
Career Highlights
Made in America (Album with Hosier, 2017)
War (Third album, 2019)
The Brave (Album with Tom MacDonald, 2022)
Salute the Brave (Song with Hosier, 2017)
Adam Calhoun Net Worth
Adam Calhoun is one of the well-known rappers and social media personalities in the United States. He garnered a lot of attention after collaborating with Hosier for the album "Made in America."
Calhoun accumulated a lot of wealth by releasing several albums in his career. He mainly earns from streaming platforms, YouTube, as well as live concerts, and collaborations with other content creators.
Not to mention, Adam launched his clothing line which offers hoodies, T-shirts, etc. His businesses are a big contributor to his wealth. As of 2023, Adam Calhoun's net worth is estimated to be $5 million.
You May Like: