Tony Toutouni is an American -Iranian businessman, entrepreneur, and media personality who has a net worth of $75 Million. He earned a vast chunk of wealth from his businesses that he has been doing since the age of 19.
Toutouni earned the title of "King Of Instagram" and gained recognition for showing extravagant lifestyles, luxurious cars, private jets, etc. Tony became a friend with popular Poker Player, Dan Bilzerian and began hanging out in private jets with women.
What is Tony Toutouni's Net Worth?
[table id=589 /]
Early Life
Tony Toutouni was born on April 4th, 1973, in Los Angeles, California. He grew up in the USA after he and his family escaped Iran after the "Islamic Iranian revolution" of 1979.
The family settled in Kansas City, Missouri before relocating to Los Angeles. Tony's father began working as a newscaster. At that time, his mother decided to pursue her Ph.D. There is very little known about Tony's personal life.
Career
Prior to his teens, Tony worked as a car stereo salesman but one day he decided to quit his job to pursue his dreams of becoming a businessman. Tony managed to earn enough money to purchase a nightclub in LA when he was 19 years old.
Once his business became successful he sold it and with the profits he bought another one. A few years later, he decided to expand into different variations of business. His portfolio has since evolved into restaurants and car dealerships.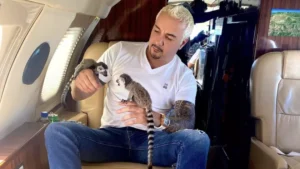 Breakthrough
In 2015, Toutouni moved his interest into tech startups including a whopping million-dollar investment into a "MillionaireMatch" site. After amassing enough cast, Tony began to enjoy the perks of success by living in Hollywood.
From there, he continued to spend millions of dollars on his lavish lifestyle, meeting from Floyd Mayweather to Dan Bilzerian. His luxurious lifestyle includes expensive Yachts, private jets, and supercars.
Other Ventures
Tony has been active on Instagram since 2014. He uploaded his first picture to the platform in May of that year and from there he continued to show his lifestyle on Instagram. Currently, the media personality has more than 2 million followers.
In April 2018, Tony sued a Lebanese model, Deyana Mounira, after she had performed explicit acts with the genitals of his dog Hef during a photoshoot. Deyana denied the allegations and stated that Tony was excited about the situation.
Personal Life
Tony Toutouni is probably best known for spending his time with models. He started dating model Juliann Nicole and later married. However, their married lasted only for 20 days. The couple also have a baby boy.
Tony Toutouni Net Worth
Tony Toutouni is one of the wealthiest businessman and media personalities in the United States. He became a millionaire when he was in his teenage years. At the age of 18, he opened his first nightclub in Hollywood which was so successful.
Following the success of his first business, he tried his hands in several other enterprises all of which earned him millions of dollars. As of 2023, Tony Toutouni's net worth is estimated to be $75 Million.
You May Like