Tila Tequila is an American model and television personality with a net worth of $700,000. She first rose to fame after establishing herself on MySpace. She gained further recognition for her regular appearance on a couple of hit television shows.
Tequila is a multitalented personality and has made a name for herself in many professions. In addition to model and TV star, she is also a singer, songwriter, actor, social media influencer, blogger, and writer.
Her popularity grew in 2007 when Tequila began appearing in the hit show "A Shot at Love with Tila Tequila". That series lasted for two seasons and became MTV's second-highest-rated show premiere of 2007. Following the success, Tequila started participating in some major projects.
What is Tila Tequila Net Worth?
[table id=57 /]
Early Life
Tila "Tequila" Nguyen was born to Vietnamese parents in the country of Singapore on October 24th, 1981. When she was one year old her family immigrated to Houston, Texas. Tequila grew up in the gated Buddhist community alongside her two older siblings, her brother Daniel and sister Terri.
Her father worked as a dishwasher while her mother as a seamstress. The family spent the next few years in Houston until Tequila turned eight years old. While studying in high school she found herself joining a gang as well as using drugs.
At the age of 16 Tila ran away from home and wound up in Queens, New York City for several months. Eventually, her family was able to convince her to return to Houston. In 2000 she graduated from Alief Hastings High School.
Career
Upon her graduation, she developed an interest in modeling and then moved to California to pursue her career. She briefly attended college but later dropped out. While spending some time in one of Houston's shopping malls she caught the attention of a Playboy talent scout at the age of 19.
She participated in a test shoot for the publication. Soon Tila headed off to LA and became Playboy's Cyber Girl of the Week in April 2002. She earned herself the honor of becoming the first-ever Asian Cyber Girl of the Month.
Tila formed a rock band "Beyond Betty Jean" at the age of 20. She continued to act as a songwriter and singer for the band but that band eventually disbanded. From there she began working on her singing and writing skills in the recording studio.
Tila then moved on to the band "Jealousy" where she became the lead artist. That group didn't exactly last, so in 2003 she joined VH1's reality show "Surviving Nugent" alongside rockstar Ted Nugent.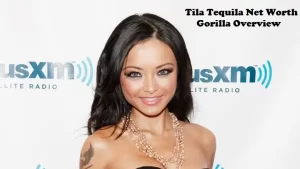 Breakthrough
In the fall of 2003, she turned herself into a MySpace sensation. She began uploading her content and soon earned herself millions of friends on the platform. She was also given the nickname "Queen" of MySpace in 2006.
Before this, she also made her appearance on the covers of magazines, and at car shows with the help of the import racing scene. In April 2006 Tila got an opportunity to host the first season of the dance show "Pants-Off Dance-Off" which aired on Fuse TV.
In the following year, she dropped her first song "I Love U" on iTunes. From that point forward Tila continued to release more music including five songs and two solo extended plays. 2007 was the big year for Tila when she appeared on the NBC show "Identity". show "The War at Home".
That same year she had a role in the film "I Now Pronounce You Chuck and Larry". She was able to anchor her very own reality series, MTV's "A Shot At Love with Tila Tequila". The show was a daily competition with a bise#ual twist. The series attracted as many as 6.2 million viewers at its peak.
The show was canceled after its second season when winner Kristy Morgan declined her Shot At Love with Tila Tequila. She continued to release the occasional new songs like "Stripper Friends" and "and "I Love My DJ".
Other Ventures
Tila published her own book titled "Hooking Up with Tila Tequila: A Guide to Love, Fame, Happiness, Success, and Being the Life of the Party" in 2008.
In 2010 she dropped her last name by changing her name to Miss Tila. She launched her record label called "Little Miss Trendsetter", and released her new single which didn't receive positive reviews.
In May of that year, she found a new work for herself which was "MissTilaOMG.com" a celebrity gossip blog. Along with launching this blog she also released her new EP "Welcome to the Darkside". The project failed to gain positive reviews.
In 2017 Tila legally changed her name to Tornado Thein and then founded a YouTube channel. Under her new name, she started selling artwork online in 2018.
Personal Life
From 2007 to 2008 Tila was in a relationship with internet personality Bobby Banhart. However, Bobby denied their relationship by saying on MySpace that the two had never dated.
She also briefly dated Courtenay Smell who is the daughter of the former CEO of Yahoo! Inc, Terry Semel. In 2009 Tila got engaged to heiress Casey Johnson. But Casey passed away in 2010 after battling with diabetes.
In 2013 Tila started dating a musician Thomas Paxton Whitaker. In November 2014 she gave birth to her first daughter Isabella Monroe. However, Tila's relationship with Thomas ended earlier that year. She also welcomed her second child Annabelle in September 2018.
Tila Tequila Net Worth
Tila Tequila is an American model and TV star from Singapore. She earned a lot of popularity at the peak of her career in 2008. The majority of her income came from the television industry appearing in a couple of television shows. As of 2023, Tila Tequila's net worth is estimated to be $700 thousand.
You May Like: