Teddy Swims is an American singer and songwriter who has a net worth of $2 Million. He is known for demonstrating his musical talent by covering a series of different genres on his YouTube channel.
Swims came to the spotlight as an original artist by penning songs of his own like "Simple Things", "Someone Who Loved You", and "Devil in a Dress". He began uploading cover performances to his YouTube channel in 2019 and gained massive recognition in a short period.
Teddy made a name for himself on social media earning over 3 million followers on Instagram and 2.7 million subscribers on YouTube. This tattooed singer amassed over 600 million views on YouTube and made a deal with Warner Records.
What is Teddy Swims' Net Worth?
[table id=641 /]
Early Life
Jaten Dimsdale was born on September 25, 1992, and grew up in the Atlanta suburb of Conyers, Georgia. His grandfather (a Pentecostal preacher) had a massive presence in his life.
Teddy initially explored football and wrestling before realizing his true passion for music. His parents were pushing him to improve his skill set on the Gridiron. Teddy grew up with three brothers and played a lot of wrestling growing up.
Around the 10th grade, Teddy joined a musical theater class where he discovered his passion for music. At first, he had to convince his mother to support his newfound passion. However, his talent spoke for itself, and soon, he was on stage.
Career
Teddy Swims continued to improve his vocal abilities by studying YouTube videos of his favorite singers. After graduating from high school Teddy began dabbling a bit in a beauty school but quickly realized that he hated it.
Swims decided to join a series of local hard rock bands and began his music career. To craft his musical skills, he started providing his voice to all sorts of musical projects including cover bands, metal groups, and Hip Hop Collectives. Teddy also performed 60 Soul covers and 80s Hair Metal songs.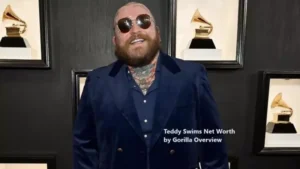 Breakthrough
In June 2019, he had a big break when he posted a Karaoke-style video of himself performing Rock With You by Michael Jackson in honor of the 10th anniversary of the king of pop's passing. People across the internet quickly saw how powerful and talented singer Teddy is when a clip of him singing went viral.
Teddy's second video "Someone Who Loved You" by Lewis Capaldi, grew an even larger audience than his first. Just in a few weeks, Teddy became a massive YouTube star with over a million subscribers.
Soon afterward, he teamed up with his bandmate and close friend Addy Maxwell to wrap over the top of some of these original beats. By the end of 2019, Teddy released his first hip-hop track which caught the attention of the right people. Teddy Swims has a net worth of $2 Million.
Further Sucess
In early 2020, he was contacted by the popular label "Warner Records" and was signed to their label. Then, Teddy to a chance to make high-profile appearances on shows like "The Late Show with Stephen Colbert", "Jimmy Kimmel Live!",  and "The Late Late Show with James Corden".
In May 2021, Teddy dropped his first EP Unlearning which featured hit songs like "Picky" and "Broke". Since his big breakthrough, Teddy Swims has been writing new music constantly and has written over 300 songs in 2021. He also collaborated with Meghan Trainor and Thomas Rhett among others.
Teddy released his second extended play called A Very Teddy Christmas in October 2021 followed by his third EP Tough Love in January 2021. From there, he continued to release one hit single after another including the music video "What More Can I Say" in May 2023.
Teddy Swims finally dropped his debut studio album I've Tried Everything But Therapy (Part 1) in September 2023. Following that release, he became an even bigger star and earned massive popularity with millions of new fans.
Career Highlights
Someone Who Loved You (Cover song, 2022)
Unlearning (First EP, 2021)
I've Tried Everything But Therapy (Part 1) (Debut album, 2023)
Teddy Swims Net Worth
Teddy Swims is a musical sensation who captured hearts worldwide with his incredible talent. He rose to stardom in 2019 following the release of a viral karaoke-style video, "Rock with You" by Michael Jackson.
Teddy accumulated a vast chunk of money from his successful music career. He makes money from releasing new songs on YouTube and performing at concerts. Moreover, his record deals allow him to earn thousands of dollars. As of 2023, Teddy Swims' net worth is estimated to be $2 Million.
You May Like