Steven He is a Chinese Irish actor and comedy sketch content creator who has a net worth of $4 Million. He is probably most well-known for his incredibly viral videos starring his "Asian Dad" character.
But becoming popular on social media platforms was never exactly the plan for Steven. He is a professionally trained actor with a lot of experience and performed on-stage all over the UK, China, and the USA.
When the Pandemic hit, Steven had to develop a whole new source of remuneration for himself to stay engaged. So he began his career as a content creator on YouTube and now has more than 10 million subscribers on his main channel.
What is Steven He's Net Worth?
[table id=552 /]
Early Life
Steven He O'Byrne was born on December 31st, 1996, in Shenzhen, China. He has an interesting family heritage because he is half-Chinese and half-Irish. At the age of just 8 years old, Steven and his family moved to Ireland.
From that point forward, his family continued to back and forth between both countries throughout Steven's childhood. Upon entering his youth, Steven found his true passion which was acting.
Later, he began spending time learning about the arts to become a full-time actor. After graduating from high school in Ireland, Steven moved to London, England, to obtain his bachelor's degree from the Regent's University London.
Career
Steven began his career by participating in acting, film, and television, as well as theater, stage combat, and Sheksparean courses while attending Regent University. After graduating from the field of acting and global theater program, he went on to find an acting gig.
Steven did find the gig at the Marylebone Theater where he played the lead role of Samuel in Mounting the Crucible. From there, he moved on to the Park Theater where he landed a supporting role in a production of Dover Road. He followed that up by performing the leading role at the Edinburgh Festival.
Around that time he was earning a lot of experience but he still wasn't finding regular work. So, Steven decided to look elsewhere and made the big move to New York City. Upon arriving in North America, Steven created his YouTube channel in March 2019.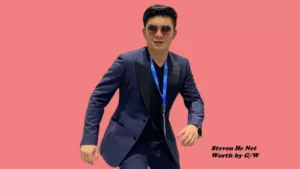 Breakthrough
In the mid of 2019, Steven began producing content on his YouTube channel. Soon after, he also began attending the neighborhood Playhouse School of Theater in New York City where he was for 2 years.
While attending classes in NYC, Steven would pick up more gigs on the side. His first production in North America was a character named Dennis in a web series titled Scheme*s.
Following that, he booked a leading role as ZhaoQuan in the TV series Dinosaur World which aired on China's biggest streaming platform. The following month, he landed a guest spot on Comedy Central's new series Awkwafina Is Nora From Queens.
Further Success
After appearing in a handful of TV shows, Steven began focusing on creating more content for his YouTube channel. He started by writing ten jokes a day and destroying nine of them.
Steven believes that a lot of his early work was an absolute waste. So, after spending countless hours observing other comedy channels and learning from them, his content began to take on a life of its own.
Other Ventures
Steven finally earned 1 million views on his 120th TikTok video. He created a follow-up video in the same vein that became even more widely watched with 2 million views. After creating more than 220 videos on TikTok and YouTube, he eventually bought himself a more professional camera to record sketches.
His YouTube channel would explode when he introduced a character called "Asian Parents". During the pandemic, Steven managed to make his own lane and blow up in the process. Additionally, Steven is contributing to brand new memes like the "Emotional Damage".
Career Highlights
Here are some of the most popular videos of Steven He:
When "Asian" Is a Difficulty Mode (2021)
When "Asian" is a Difficulty Mode: EMOTIONAL DAMAGE (2022)
When "Asian" is a Difficulty Mode 2 (2021)
Why Ghosts Don't Haunt Asians (2021)
Steven He Net Worth
Steven He is one of the most recognized content creators in China. He rose to fame in the 2020s via his portrayal of a fictionalized version of his dad, whose character shows East Asian parenting stereotypes, and introducing the phrase emotional damage.
Steven makes money from his four YouTube channels where he garnered millions of subscribers. Most of his videos earned over 30 million views on YouTube. He made a name for himself on YouTube, TikTok, Instagram, etc. As of 2023, Steven He's net worth is estimated to be $4 Million.
You May Like