Sophie Brussaux is a French artist, model, and former adult entertainer who has a net worth of $1.5 Million. She came to the spotlight after revealing to the world as rapper Drake's Baby mama via a diss track from Pusha T.
The couple first made headlines in 2018 when they were seen dining at a restaurant in Amsterdam. Sophie also known as "Rosee Divine" gained further recognition for sharing photos of her pregnancy on the internet. She has managed to amass over 600k followers on her Instagram account alone.
What is Sophie Brussaux's Net Worth?
[table id=475 /]
Early Life
Sophie Brussaux was born on August 1st, 1989 in Bordeaux, Aquitaine, France. Since she was young she has always been traveling and studying abroad. Sophie graduated with a Bachelor's degree in French literature, and an international business and finance degree.
She also attended Bordeaux International School. Sophie is proud of her French heritage. Growing up she began creating her original art pieces but in her early 20's she dabbled with the idea of getting into modeling.
Career
Sophie began her career in the entertainment industry and she admitted herself in interviews that her curvy figure got her tons of attention. As a model she went by the name of "Rosee Divine" and she did book quite a bit of work.
Her early work caught the attention of a magazine called Smooth Girl with who Sophie signed a modeling contract. She also created a Twitter account under the name "TheFrenchRosee" which was later deleted.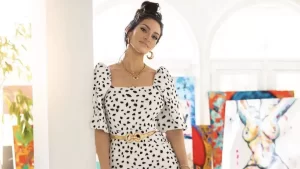 Breakthrough
In 2012 Sophie moved to America on a more permanent basis. There she was cast as a character in a reality TV show "Real Mistresses Of Atlanta". In the trailer, she has featured shopping for real estate and was said to be dating a man in the NBA.
The show was not successful, as a result, Sophie wound up leaving the modeling career in favor of her artwork. Some of her early work centered around a feminist theme. Her skills in artwork led her to become the co-owner of SophieKnowsArt.
Other Ventures
Sophie has always been a globe trotter and splitter her time between France and America. In addition, she also made frequent stops in places including Dubai, Milan, and London.
In 2020 Sophie landed a job in Toronto as the Artistic Director at Toronto Arts Help which is a global community of artists, and storytellers with millions of fans and members.
Personal Life
In January 2017 Sophie Brussaux was spotted with Canadian rapper Drake at a Japanese restaurant. By May of that year, she was reported to be pregnant and went to TMZ with a text discussion between the two.
At this time Drake's reps cited her as one of multiple women claiming to have gotten pregnant. The relationship between Drake and Sophie came to the limelight when rapper Pusha T released his diss track "The Story of Adidon".
In October 2017 Drake's son Adonis Graham was born and from there Sophie started posting baby photos on Instagram. At first, she didn't show the face or the hair of her child and was posting pictures with her 50k followers. As of now, Drake and Sophie are happily co-parenting their child Adonis.
Sophie Brussaux Net Worth
Sophie Brussaux is one of the well-recognized celebrities on social media. She garnered immense popularity after announcing that she is Drak's baby mama. The couple have been in a good relationship.
Sophie accumulated a good sum of money from her modeling career and it further opened doors for her. Later, she quit her modeling field and began working as an Artistic Director at the Toronto Arts Help Center.
She has also done endorsement work for a couple of brands such as REPREVE and others. As of 2023, Sophie Brussaux's net worth is estimated to be $1.5 Million.
You May Like