Salt Bae is a Turkish chef, food entertainer, and restaurateur who has a net worth of $70 Million. He is best known for his unique style of preparing and seasoning meat which became a meme in January 2017.
Following this Salt Bae became an internet sensation and earned popularity all around the world. Currently, he is the owner of several luxury steak houses all around the globe. Salt Bae launched his first steak house called "Nusr-Et" in his hometown in Turkey.
After getting success there he continued to launch more and more restaurants in different countries including Dubai, London, Greece, Qatar, and Saudia Arabia. As of now, Salt Bae is no less than any big celebrity and his popularity is still growing.
What is Salt Bae's Net Worth?
[table id=65 /]
Early Life
Nusret Gökçe was born on August 9th, 1983, in Eastern Anatolia, Turkey. He is the son of Faik and Fatima. Nusret had a very struggling childhood as his father worked as a mine worker. As a kid, he went to Faik Sahenk Ilkokulu school but dropped out in the middle.
According to reports, his parents forced him the leave his education in the sixth grade due to financial problems. After dropping out of school Nusret began working as a butcher's apprentice in Istanbul.
He has three brothers Özgür, Uğur Gökçe, and Erman. All of his siblings are pursuing careers as a chef but Nusret is the only one who's earned worldwide recognition. As he grew older he discovered his passion for being a professional chef.
Career
In the early 2000s, Salt Bae got an opportunity to visit different countries including the United States and Argentina. In order to become a pro chef he began working in local restaurants free of cost. It was the year 2010 when Salt Bae came back to his country in Turkey.
Upon his return, he immediately opened his first restaurant in Istanbul. He saw incredible success from that business which encouraged him to expand his business in more countries. In 2014 Salt Bae went to the United Arab Emirates to launch his second restaurant in Dubai.
Nusret Gökçe aka Salt Bae has a net worth of a whopping $70 million.
Breakthrough
Nusret saw real success in early 2017 which was his breakthrough year. He shared a series of cooking videos on social media. Nusret posted a 36-second video titled "Ottoman Steak" on his Twitter account. That video featured a unique way of cutting the steak and then sprinkling the salt from his fingers to his forearm onto the meat.
On the very next day, popular American singer Bruno Mars Tweeted a picture of Salt Bae with the caption "Andddd I'm Out". This short video "Ottoman Steak" went viral and within 48 hours it had garnered almost 3 million views.
Moreover, the video began to spread on various other social media outlets. His meme was everywhere and people started calling him "Salt Bae". It is not only a steak or the salt sprinkling that made him famous but also his unique body language and the way of saying "WOW" have some contribution as well.
In September 2021, Nusret launched his new restaurant called "Nusr-Et Steakhouse" in London. That restaurant emerged on his Instagram profile. But, one person bit back by publishing a bill for more than £1800, then conveying "It is more affordable to have a meal at Salt Bae's Turkish restaurant than eat at the London one".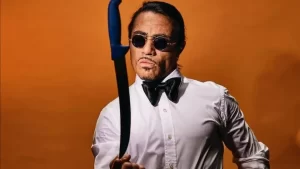 Controversies
Despite having success, he also faced criticism for his dishes. One salty critic expressed his dishes as "over-salted and too expensive". On the other hand, the New York Post described his steaks as "mundane", while his hamburgers were wiped out as "burned".
It was the year 2016 when Salt Bae saw some criticism after mimicking in front of a picture of former President Fidel Castro of Cuba. Then in 2017, he faced criticism again when Venezuelan President, Nicolás Maduro visited Salt Bae's Istanbul restaurant.
But Salt Bae didn't stop and he continued to expand his business in many places. People say that his meals are costly but at the same time, they love his excellent dishes, particularly the meat steaks.
Personal Life
Nusret aka "Salt Bae" was in a relationship with Mithat Erdem. Mithat was the co-founder of Nusr-et and the CEO of the Doğuş Group, Ferit Sahenk. The two had dated for a few years before splitting.
Salt Bae is also known for his charitable and social work like building a school in his hometown.
Career Highlights
Salt Bae is known for owning a fleet of luxury cars and a helicopter. Some high-end celebrities seem to have loved his unique style as almost all of the known stars tried his steak and had a great time with him.
This is the main reason why Salt Bae is becoming more and more popular all around the world. His business is said to be valued in billions. This celebrity chef has almost 50 million followers on Instagram alone.
Nusret says he hasn't changed that much and still keeps going to work from early morning to late at night every day. His worldwide fame and success are the results of his super hard work and determination.
Salt Bae Net Worth
Nusret Gökçe is a Turkish chef, restaurateur, and social media personality from Paşalı, Erzurum, Eastern Anatolia, Turkey. He came to the spotlight for his unique style of seasoning meat and then sprinkling salt. All thanks to his hard work and style which earned him the moniker of "Salt Bae".
Today he runs numerous restaurants in various places:
Bodrum
Ankara
Marmaris
 Istanbul
Dubai
Abu Dhabi
Doha
Jeddah
Mykonos
Miami
New York
Boston
Dallas
Beverly Hills
As of 2023, Salt Bae's net worth is estimated to be $70 million, making him one of the richest chefs in the world. In recent years he has managed to earn millions of dollars by expanding his business. He earned all that tremendous success in the past 10 years.
You May Like: