Rachel Brosnahan is an American actress with a net worth of $15 Million. After starring as Miriam "Midge" Maisel in the Amazone Prime series The Marvelous Mrs, she came to the spotlight. She played the title character in this show and won several awards.
While Rachel had been acting since her early years and always knew that was her calling, it was her role in that series that got her recognition in Hollywood.
Now, with her major role as the iconic Lois Lane upcoming, the sky's the limit for Rachel. She is also known for appearing in the hit Netflix series House of Cards from 2013 to 2015.
What is Rachel Brosnahan's Net Worth?
[table id=520 /]
Early Life
Rachel Elizabeth Brosnahan was born on December 15th, 1990, in Milwaukee, Wisconsin. She was raised by her parents Carol and Earle Brosnahan. Her father worked in a children's publishing home.
She has Irish ancestry on her father's side and is of British descent on her mom's descent. Rachel isn't Jewish however, she was happily immersed in the Jewish culture growing up, thanks to being raised in the community of Highland Park, Illinois.
Rachel grew up with her younger brother and sister. Her aunt Kate Spade was the late fashion designer. She was raised in a loving and supportive family and her early life was filled with diverse experiences and opportunities.
Education
Rachel went to study at Wayne Thomas Elementary Academy before enrolling at Northwood Junior High School. During high school, she happily performed in musical theater and also channeled her athletic side.
She participated on the wrestling team, playing for about 2 years before becoming a snowboard instructor. In her school, her dedication to acting grew more and she joined the drama club where she had the chance to refine her skills and collab with other students.
Rachel further pursued more training outside of school by attending acting workshops. In addition, she attended summer programs, honing her abilities and expanding her understanding of the art. At the age of 16, she enrolled at Wilmette's Actors Training Center, graduating in 2008.
After that, she decided to pursue a Bachelor's degree in theater from New York University's Tisch School of the Arts. This marked a significant turning point in her life as she immersed herself in the vibrant theater scene of New York City. Rachel graduated from Tisch in 2012.
Career
During high school, Rachel Brosnahan received her first film role starring as Lisa in the horror film The Unborn in 2009. Then afterward in college, she emerged in some episodes of TV programs like Gossip Girl, Grey's Anatomy, The Good Wife, and In Treatment.
In 2013 and 2014 she showed her acting skills in two short movies Basically and Munchausen. Upon graduating from college, she started to land recurring roles in shows like The Bla**list in 2014 and a medical drama called Black Box also in 2014.
Early on in her career, Rachel also appeared in off-Broadway production starting around the same time she had her character in The Unborn. In 2013 she made her first Broadway appearance in The Big Knife. About three years later, she co-stars with David Oyelowo and Daniel Craig in Othello at New York Theatre Workshop.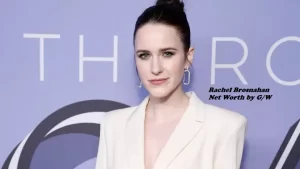 Breakthrough
Rachel had a big break in 2013 when she landed the role of "Rachel Posner" in the Netflix drama House of Cards. The series earned critical acclaim and she starred alongside Robin Wright and Kevin Spacey.
At first, she was booked for just 2 episodes, luckily her acting abilities grabbed the attention of Beau Willimon, and her role was grown. She gained a lot of recognition for her outstanding performance in the series and received a couple of award nominations.
Further Success
It was Rachel's portrayal of Miriam "Midge" Maisel in the series The Marvelous Mrs. Maisel. The show catapulted her to international fame. She's been playing the title character in this Amazon series since 2017. Her immense performance in the series earned her a bunch of awards including a Prime Time Emmy, two Golden Globes, and more.
In January 2020 the drama film The Courier was released in which Rachel appeared with Benedict Cumberbatch. She followed this up by starring as Jean in Amazon's I'm Your Woman at the end of 2020. Next, Rachel had a starring role in the film Dead for a Dollar. In 2023, she starred in the revival of The Sign in Sidney Brustein's Window.
Other Ventures
In June 2023, it was announced that Rachel was cast as the iconic Lois Lane in the DC Universe, starting with the upcoming 2025 film Superman: Legacy directed by James Gunn. She has been cast alongside David Corenswet as the new Superman and their casting comes after a shake-up at DC Studios.
Rachel Brosnahan's net worth grew further in June 2019 after she made a lucrative first-look agreement with Amazon Studios. Following the contract, her production company Scrap Paper Pictures began developing new shows for Amazon.
Personal Life
Rachel began dating actor Jason Ralph after the couple met on the set of a television series. From there, the two continued attending several events together. In 2018 Rachel and Jason revealed at the two were married back in 2016.
Career Highlights
House of Cards (Series, 2013–2015)
The Marvelous Mrs. Maisel (Period drama show, 2017–2023)
2018-2019 Golden Globe Awards, Best Performance by an Actress in a TV Series  – Musical or Comedy _ Won
2018 Primetime Emmy Award, Outstanding Lead Actress in a Comedy Series _ Won
Rachel Brosnahan Net Worth
Rachel Brosnahan is one of the rising actresses in the American entertainment industry. She accumulated a lot of wealth from her acting skills in the hit series The Marvelous Mrs. Maisel. 
Aside from winning awards for her performance, Rachel took a salary of $100,000 per episode for seasons one and two of The Marvelous Mrs. Maisel. According to Celebritynetworth, Rachel earned $800 thousand for season 1 and $1 million for season 2, making her a millionaire.
Rachel Brosnahan has managed to earn $2.4 million from the third season of The Marvelous Mrs. Maisel. In this season, she earned a salary of $300,000 per episode. As of 2023, Rachel Brosnahan's net worth is estimated to be $15 Million.
You May Like