Queen Naija is an American singer and YouTuber star who has a net worth of $4 Million. Her rise to fame came with the release of her song Medicine in 2017. The track went viral and wound up amassing over 220 million views on YouTube.
Despite this, Queen is also known for making vlogs on her YouTube channel. She began her social media journey by creating her YouTube account called "Chris and Queen" in collaboration with her ex-husband Christopher Sails.
As for TV shows, Queen Naija participated in season 13 of American Idol but she was eliminated from the show. After getting rejected not once but twice by the show, she went on to use YouTube to build a following for herself, before cracking into the mainstream music industry.
What is Queen Naija's Net Worth?
[table id=498 /]
Early Life
Queen Naija was born on October 17th, 1995, in Detroit, Michigan. She was named Queen after her grandmother while her middle name Naija came from her father.
She is of Yemeni descent from her father's side and her mother is Black Italian and Indian. When her mother was 9 months pregnant with Naija, her dad already had nine other children.
Naija's dad came to visit her at the hospital when she was born but was otherwise not a part of her life as he was deported back to Yamen when she was just 2 years old.
Career
Queen Naija began singing when she was just three years old, as her grandmother started taking her to church and making her sing in front of everyone. It was there that she fell in love with music.
Naija grew up as the only child of her mom until she was 6 years old. At the time her mother got married and had two more kids including her brother Terrell and her sister Tina.
Growing up, Queen Naija started taking music more seriously and decided to try out for American Idol at just 16 years old. She was driven by one of her family members from Detroit to South Carolina where the auditions were taking place.
Unfortunately, this wasn't televised as she was turned down in the initial audition for being pitchy. After that, she went home and landed a job at Checker's drive-in restaurant.
She eventually returned to try out for American Idol by the age of 18. She auditioned with the song And I Am Telling You I'm Not Going by Jennifer Holliday. While she didn't win the season but she did end up making it further that first audition.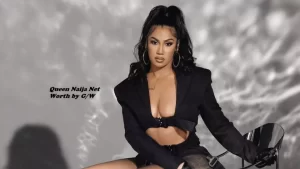 Breakthrough
The turning point of Queen Naija's career came when she teamed up with her partner to launch their YouTube channel Chris and Queen.
The couple began uploading vlogs, playing pranks on each other, doing story time videos, and various challenges. After her separation from Chris, Queen decided to create her self-titled YouTube channel in April 2017.
Queen went on to release her breakout single Medicine in which she challenged some of her anger towards Chris. The song was such a major hit that it entered the Billboard Hot 100 and number 45 and got her signed by major label Capitol Records.
Under the label, Queen released her song Karma in June 2018. Both of her early songs were included on her self-titled EP as well as a song produced by No I.D. called Bad Boy. Her extended play was another big hit project peaking at #26 on the Billboard 200. With all that success, Queen Naija earned a net worth of $4 million.
Other Ventures
When it comes to her music, Queen Naija has been inspired by Kehlani, Jhene Aiko, J. Cole, A Boogie, Kendrick Lamar, and Chance the Rapper. In July 2018 she went on from number 12 to number 1 on the Billboard's Emerging Artist Chart with her song Karma.
It's her second single after Medicine debuted at number 63 on the Billboard Hot 100 and number 10 on the R&B Songs Chart. The song Karma has been listened to over 130 million times on YouTube. In October 2020, Queen Naija eventually dropped her debut studio album Missunderstood which contains 18 tracks. Three tracks from the project went viral and were Certified Gold by the RIAA.
Beyond her success in the music industry, Queen dreams are forming a business or program for young women who have been hurt and abused and have low self-esteem.
Personal Life
Queen Naija met Christopher Sails at a high school basketball game where he asked for her number but she denied him. She eventually came around on April 15th, 2013, when they were both 17 years old.
They began their relationship which later turned into a full-blown marriage in 2017. The couple welcomed their first child Christopher Sails Jr. in February 2015. But the two divorced in 2018.
Queen and YouTuber Clarence White started dating in 2018 shortly after her separation from Christopher. The couple has been dating since 2018 and often shares pictures and videos on social media platforms.
Career Highlights
Medicine (Song, 2017)
Queen Naija (First EP, 2018)
Missunderstood (Debut album, 2020)
Queen Naija Net Worth
Queen Naija is one of the most successful artists in the entertainment industry. She first tried her hand on American Idol and then became an aspiring YouTube star. She earned mainstream success in music following the release of her song Medicine. 
Queen makes money from her YouTube channel where she amassed more than 5 million subscribers. She began her professional career at the age of 16 and now became an internet sensation. As of 2023, Queen Naija's net worth is estimated to be $4 MIllion.
You May Like