NoCap is an American rapper and singer who has a net worth of $1 Million. He rose to fame after releasing his hit singles "Legend" and "Ghetto Angels". Both of these tracks earned him a lot of recognition in the American rap community.
NoCap began his rap career in 2017 and soon his music caught the attention of NBA YoungBoy and Atlantic Records with whom he signed. His third mixtape "The Hood Dictionary" was released in 2019, peaking at the Billboard Hot 200.
In April 2022, NoCap's breakthrough project, his debut studio album "Mr. Crawford" came out. It debuted at #8 on the Billboard 200, becoming his highest-charting project so far.
What is NoCap's Net Worth?
[table id=307 /]
Early Life
Kobe Crawford aka NoCap was born on August 20th, 1998, in Mobile, Alabama. When he was 9 years old, he began rapping under the guidance of his mother's boyfriend. Around the same time, his older brother was performing at the local venues around Mobile.
Back then he went by the moniker of "Young Globe". Under the name, he was performing songs that were written by his mom's boyfriend. But after the relationship between his mom and this man ended, NoCap quit performing.
At 18 years old, after graduating from Murphy High School he briefly considered attending a Trade School. But ultimately couldn't resist a return to the music scene. The family's financial situation was not good, so NoCap took his first job at the local Walmart but it only lasted for two weeks.
Career
NoCap returned to the stage and his career began in earnest with the release of his first EP "Joker" in May 2017. A year later, he dropped the hit single "Legend". This song skyrocketed on YouTube and currently has over 18 million views.
In fact, the song "Legend" proved so popular that he would use this song to launch his debut mixtape "Neighborhood Hero" in July 2018. In September of that same year, NoCap followed that success with a collaborative mixtape entitled "Rogerville" with Rylo Rodriguez.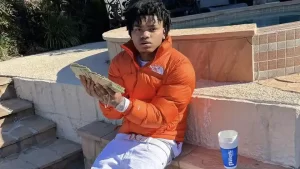 Breakthrough
At the end of 2018, NoCap was featured on Lil Baby's track "Dreams 2 Reality". This was followed by "Punching Bag" and "No Patience" with producer CashMoneyAP. His next big hit was "Ghetto Angels" which proved to be his most popular single to date with over 94 million views on YouTube.
In May 2019, NoCap's second solo mixtape "The Backend Child" came out, featuring Rylo, OMB Peezy, and Quando Rondo. Two months later, he was featured as a part of DJ Booth's "Bless The Booth" series on the title music platform.
Further Success
In August 2019, NoCap released the track "E*otic" on the HotNewHipHop Freestyle Session. In November of that year, he released his third mixtape "The Hood Dictionary" which featured appearances from the likes of Lil Durk and Jagged Edge.
NoCap followed that up by releasing his fourth mixtape "Steel Human" in July 2020. The rapper eventually dropped his debut studio album "Mr. Crawford" in April 2022 and it became a huge success after selling nearly 29,000 copies in the first week of its release. This project peaked at NoCap's highest spot yet on the Billboard Top 200, landing at place 8.
Personal Life
Apart from success in the music industry, NoCap had been in trouble throughout his career. In the fall of 2019, police responded to a report of disorderly conduct and a discharging of a firearm within city limits.
According to reports, NoCap had fired a gun into a residential house. Another witness reported that he heard four to five shots ring out. As a result, the rapper was arrested and released in November 2019. NoCap was placed back in prison during the early days of 2021.
Career Highlights
Legend (Single, 2018)
Ghetto Angels (Single, 2019)
The Hood Dictionary (Third mixtape, 2019)
Mr. Crawford (Debut studio album, 2022)
NoCap Net Worth
NoCap is one of the rising rappers in the American music industry. He is on his way to becoming a lead name in the music scene by releasing more and more hit singles. NoCap is so prevalent and prolific right now that it's difficult to believe he's only been making music for a couple of years.
He collaborated with the likes of Lil Baby, DaBaby, Rylo Rodriguez, Mozzy, Quando Rondo, and CashMoneyAP. He mainly earns money from music sales, live shows, as well as his YouTube channel. NoCap's net worth is estimated to be $1 Million.