Nicolette Gray is an American YouTuber, social media personality, and model who has a net worth of $3 Million. She is best recognized for sharing beauty, fashion lavish lifestyle-related content on her YouTube channel and Instagram.
Nicolette first came into the limelight through her first TV show appearance in "Dr. Phil" in 2018. The episode spotlighted her excessive spending routines. In this show, she talked about how she was raised by her mother.
Long before Nicolette brought her own income her mother funded her lifestyle of high-end shopping and fine dining. She is one of the YouTube Stars who were born Rich. After her appearance in the "Dr. Phil" episode, she launched her career as a social media influencer.
What is Nicolette Gray's Net Worth?
[table id=191 /]
Early Life
Nicolette Gray was born on April 15th, 2002, in Los Angeles, California, USA. Her mother Nina Gray is the founder and CEO of the dentist hospital who seemingly earns a handsome salary. Her mom also has a YouTube channel where she shows living in a big home and enjoying luxury vacations.
Nicolette spent her childhood in Beverly Hills, Los Angeles, along with her younger sister Blair who is also a public figure. She attended a handful of private and public schools while growing up.
Eventually, Gray opted to be homeschooled and took online classes to pursue her career. She hasn't disclosed much information about her father but it seems that her parents were separated when she was very young.
Career
Nicolette began her career by creating her self-titled YouTube channel on July 13th, 2016. However, she didn't upload her first video until 2018. "COME SHOPPING WITH ME AND BRADLEE" was her first video uploaded in May 2018. That video has over 1 million views as of today.
Since then she continued to upload more videos including lifestyle vlogs. In her videos, she mainly showcases expensive clothes, vacations, watches, cars, and gadgets, which helped her to grab the attention of a massive audience.
Around the time she uploaded her first video Gray was only 15 years old. Along with YouTube she also launched her Instagram account and began posting pictures, luxury lifestyles, and expensive things. She has half a million fans on Instagram.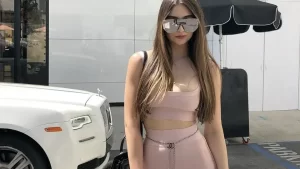 Breakthrough
2018 was the breakthrough year for Nicolette in which she began making content for YouTube. That same year she made her appearance in an episode of the TV show "Dr. Phil." Further, Gray emerged on "UK's This Morning." Her appearance in the show helped her get more followers and subscribers on her social media outlets.
In January 2019 she uploaded a video titled "REACTING TO MY DR. PHIL COPYCAT" which went viral getting over 2 million views. From that point on many of her videos became successful including "MY MOM WON'T BUY ME A BENTLEY," "24 HOUR SHOPPING CHALLENGE!," "$35,000 LUXURY HAUL," and many more.
Other Ventures
Outside of uploading her content, Gray often collabs with fellow YouTuber Madison Brooke. The two teamed for a video "Get Ready With Us: A Day in LA" and then "A Week in My Life featuring Madison Brooke."
Later, she started getting modeling gigs and got a chance to become a model for Modelist magazine. Gray gained enough success in the content creation industry and now she was able to try her hand at business. Nicolette founded her jewelry brand "Ni Clé D'Or."
Personal Life
The social media influencer Nicolette often found herself being criticized due to her luxurious behaviors. She got a fair amount of hate for showing off her costly things and items in her videos.
Haters might change their opinions today though because Nicolette seems to be making it just fine on her own now. During her appearance on the "Dr. Phil" show, she said that her mom used to give her 2,500 per month for her expenses.
Nicolette is currently in a relationship with David and they began dating sometime in 2022. David is from Australia, the couple first met many years ago but after not seeing each other for a while David went back to Australia. They are currently living together.
Car Collection
Mercedes-Benz G-Class
Mercedez-Benz CLA
Real Estate
Nicolette accumulated a net worth of $3 million via her successful career. She used to live with her mom until 2019 in one of the most expensive places in the world known as Beverly Hills, Los Angeles.
In late 2019 she moved out to a new place in Los Angeles, California. This house features three bedrooms, three and a half baths, an office room, two car garage, a balcony, and a lot more. From August 2021 to August 2022 Nicolette lived in New York City.
Career Highlights
Here are some of the most popular videos of Nicolette Gray:
24-HOUR SHOPPING CHALLENGE! (2018)
$35,000 LUXURY HAUL (2018)
WHAT WE GOT FOR CHRISTMAS! (2018)
I got another G-Wagon (2018)
REACTING TO MY DR. PHIL EPISODE!! (2018)
WHAT MY Mom DOES FOR A LIVING (2018)
OUR $50,000 LUXURY VACATION (2018)
MY MOM WON'T BUY ME A BENTLEY (2018)
Nicolette Gray Net Worth
Nicolette Gray is a social media sensation who is known for living a lavish lifestyle. She earned a lot of views on her videos in which she shows expensive living. Her popularity grew in 2018 when she appeared on the Dr. Phil show.
Outside of making money from YouTube, Nicolette went on to make money through Instagram, sharing sponsored posts with her followers. She has endorsed multiple brands throughout her career including, Chanel,  Givenchy, Louis Vuitton, and Gucci, among others.
Nicolette garnered nearly 1.3 million subscribers on her channel. Her wealth allowed her to live a lifestyle like a Hollywood celebrity. She names herself "Beverley Hills Brat." As of 2023, Nicolette Gray's net worth is estimated to be $3 million.
You May Like: