MPR Richie Rich is an American rapper who has a net worth of $500,000. He is one of underground hip-hop's most promising and enterprising stars. Richie Rich began his music career in 2014 and then continued to perform on stage.
The rapper has toured more than 40 states as well as released several tracks. He established himself as one of the rising rappers in the music industry. Despite his success in music, Richie Rich also faced troubles in his life including when he went to prison for three years, from 2011 to 2014.
What is MPR Richie Rich's Net Worth?
[table id=247 /]
Early Life
MPR Richie Rich was born on the West Side of Detroit city. He grew up in the Detroit neighborhood of Plymouth – aka, the P Rock. Richie attended Cody High School and regularly found himself on the streets.
As one of five kids with absent parents, MPR Richie Rich wound up being the one in charge of caring for his siblings. When he wasn't looking after his family, he spent his free time listening to local rap artists including OGs like Big Herk, Trick Trick, and others.
Career
Once he got older, he started listening to mainstream artists like Lil Wayne, Dr. Dre, Master P, and Jay-Z. However, he had no intention of ever getting into the music industry. Instead, Richie Rich decided to join the military in 2008.
As a member of the armed forces, he went airborne and learned how to jump out of a plane. After three years of being in service, Richie found himself in some trouble for trafficking narcotics and he wound up being sent to prison for three years between 2011 and 2014.
During that first year spent in lock-up, Richie came to the realization that he wanted something better for himself. So he started writing his first rap lyrics in 2012 while sitting in a cell to pass the time. Once he was released from prison, Richie got serious about pushing his music career as far as he could take it.
By 2015 MPR Richie Rich was out of prison so he moved to Atlanta to find a producer and engineer to record his music. The first album he ever released was titled "Mailman Has Returned".
Over the next few years he dropped two further projects "Mailman Why I Would Stop" in 2016 and then "The Mailman Take Off" in 2018. Since then Richie is mostly concentrated on singles and pushing each new track as far as it could possibly go.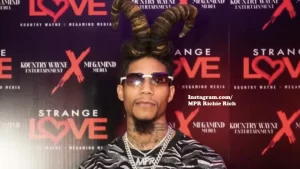 Breakthrough
In 2018 Richie started wearing his hair in a gigantic set of horns. Since then he went on to release a number of songs including "Monkey See Monkey Do" and many more.
In January 2022 Richie Rich released his most successful song titled "Live In The Moment". That song racked up over 20 million streams on SoundCloud as well as becoming the most streamed single on YouTube with over a million listens.
Following the success, the rapper invested a lot of time into a social media campaign that worked perfectly for him. First, he went to TikTok and created a series of memes around the track "Live In The Moment" to make sure to introduce the audience who had never heard his music.
When his song went viral on TikTok, Richie shifted his focus to Instagram, iTunes, and YouTube. From there he began touring with the song and performing it at a series of different clubs all across the United States.
Other Ventures
Richie also spent his time, energy, and his effort on more than just making music. Richie made sure to take part in a bunch of local promotions and marketing.
Once he was performing at a venue, he also made sure to have a ton of merchandise to sell, whether it was CDs, stickers, and more. Around that time he was making thousands of dollars off of his merch from the very beginning.
Personal Life
MPR Richie Rich is a married man and has two daughters. However, the man is quite private about his personal life so he hasn't shared anything about his relationship, family, or even his birth name. His two daughters were born the same year in 2011 when he landed himself in jail.
Career Highlights
The Mailman Take Off (Album, 2018)
Monkey See Monkey Do (Song, 2020)
Live in the Moment (Song, 2021)
MPR Richie Rich Net Worth
MPR Richie Rich is one of the up-and-coming rappers in the music scene. He has accumulated a lot of wealth and fortune over the course of his career. Outside of making money from music, Richie earned thousands of dollars from his match line as well as some other ventures.
As he is releasing new songs, his wealth and popularity are growing regularly. The rapper has done numerous stage performances and toured all across the country. As of 2023, MPR Richie Rich's net worth is estimated to be $500,000.
You May Like: