Casanova is an American rapper with a net worth of $4 Million. He became famous after making his first original song "Don't Run" in 2016. He gained further popularity with his collaborations with Tory Lanez, Chris Brown, Gunna, Young Thug, A Boogie With A Hoodie, and more.
Casanova's music caught the attention of Roc Nations with who he signed a deal and began recording more tracks. He would be one of the first people to tell you that he grew up under pretty good circumstances.
Despite that, as a young boy, he decided that a different lifestyle would be more enticing to him, so he chose a life of hustling on the streets. Eventually, he found himself committing armed robbery and was locked up for over seven years.
What is Casanova's Net Worth?
[table id=249 /]
Early Life
Caswell Senior was born on October 27th, 1986, in Brooklyn, New York. He grew up in the neighborhood of Flatbush as the youngest of many siblings. He reportedly has 10 siblings on just his mother's side and 14 on his father's side.
Caswell is of Afro-Panamanian and Haitian descent which he recalls led to a really pleasant upbringing. His mother was a hard worker who took care of her kids and bought them everything they needed.
Career
Growing up he started hustling on the streets alongside other friends, which led him to some serious trouble. By the age of 11, Cas was robbing people of their sneakers and was totally under the influence of the wrong crowd. He dropped out of school in the 8th grade.
Before long, Cas found himself serving multiple prison sentences. His time in prison was a big wake-up call for him, it was while he was locked up that the harsh realities of what his actions had led to finally dawned on him. While serving prison Cas had a popular cellmate known as rapper ASAP Rocky.
When Casanova was released from prison, one of his sisters got him a job in construction. Soon he came to the realization that manual labor wasn't for him. He turned to music to see if what once had been a hobby could lead to something more.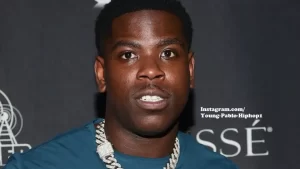 Breakthrough
Growing up Cas was hugely influenced by 50 Cent, Jay-Z, Beanie Sigel, and DMX. Eventually, he got to work telling the story of his life through his music. While he was working in the studio with some of his friends, he came up with the song "Don't Run".
Later he released the music video for the track, which went viral. The song was doing impressive numbers in New York and was played on the Radio constantly. Not long after Casanova met a rapper Memphis Bleek who knew that he could take Cas to the next level.
Bleed helped sign Casanova to a joint venture between Warehouse Music group and Jay-Z's Roc Nation in October 2016. Soon after that, Cas started his own entertainment company called "2X Entertainment. He also came up with the remix version of his hit single "Don't Run" which included legendary New York rappers like Young MA, Dave East, Don Q, and Fabolous.
He dropped more tracks such as "Line Me", "Quiet Storm", and more. From that point on Casanova continued to release more music like "The Old 50" as well as his mixtape "Be Safe Tho". That project contains a hit single "OHB" featuring Chris Brown and LO. In Feb 2018, Casanova was in a beef with Tekashi69, so to address that he released "Set Trippin".
Other Ventures
In 2018, Cas found himself in the middle of a beef with the Clown Prince of rap Tekashi 6ix9ine. The two were going back and forth for a while there but finally met up and found some form of peace with each other. Despite this, Casanova was banned from performing in New York at Rolling Loud.
Casanova got an opportunity to perform with O.T. Genasis, Chris Brown, French Montan, 50 Cent, Fabolous, and Kap G on the "Party Tour". His debut EP "Commissary" came out in June 2018. The guest appearances came from the likes of A Boogie wit da Hoodie, G-Eazy, Rich the Kid, Snap Dogg, and Mozzy. 
Personal Life
Casanova has been married to Swaggy Jazzy for many years. His personal life began to take a bit of an upswing after his first child, a baby girl was born. Around that time he was serving a prison sentence.
Career Highlights
Don't Run (Song, 2016)
Commissary (Debut album, 2018)
Casanova Net Worth
Casanova is one of the up-and-coming rappers in the music industry and has already released many tracks. He first came to the spotlight after releasing his breakout single "Don't Run".
Following the success, he dropped more singles including "Line Me", "Go Best Friend", "The Old 50", "Left, Right", "Set Trippin", "2Am", "So Brooklyn", and "Coming Home".
The rapper has accumulated handsome wealth from releasing music and performing in concerts. As of 2023, Casanova's net worth is estimated to be $4 million.
You May Like: