Mena Massoud is an Egyptian Canadian actor and singer who has a net worth of $500,000. He rose to fame in 2019 when he had a starring role in the musical fantasy movie "Aladdin". He played the title character in the film which earned him recognition.
Massoud is also known for his outstanding performance in several other acting projects including Masters in Crime, Ordinary Days, and many more. He began his professional acting career in 2011 and later established himself as one of the lead actors in showbiz.
What is Mena Massoud's Net Worth?
[table id=349 /]
Early Life
Mena Massoud was born on September 17th, 1991, in Cairo, Egypt. He was raised by the Egyptian Coptic Orthodox Christian parents Mansour and Gorgit Massoud. Mena grew up with two older sisters Marian and Margaret.
After spending a handful of years in Egypt, the family decided to relocate to Toronto, Canada when Massoud was just three years old. Growing up in Markham, Ontario, he attended a Catholic school known as "St. Brother André".
Upon his high school graduation, Mena went to study neuroscience at the University of Toronto. Around that time, he developed an interest in acting and quickly dropped out of the University. Following this, he went to Ryerson Theatre School to pursue his acting career.
Career
In 2011 Massoud started getting small acting gigs, appearing in episodes of TV series such as "Nikita" and "Combat Hospital". His first role was Al Qaeda No. 2 in an episode titled Covenant of "Nikita".
From that point on he continued to guest appear in TV series including The 99, and King. In 2011 he also had his first film role in "What Happens Next".
Massoud got his first main role as Jared Malik in the Canadian drama series "Open Heart" in 2015. His immense performance in the show led him to receive further big roles. Two years later, he appeared as Ollie Santos in the thriller film "Ordinary Days".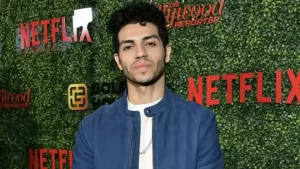 Breakthrough
The turning point of Massoud's career began when he was named to become cast in "Aladdin". He earned the main title role in the Disney film "Aladdin", a live-action adaptation of Aladdin.
The director of the film Guy Ritchie spent 4 months to find the main character. Also, there were more than 2,000 contestants who gave an audition for the role of Aladdin. In the film, Massoud played his character alongside Will Smith, Naomi Scott, and many others.
In 2019, the film "Aladdin" was released which became a commercial success, garnering over $1 billion at the box office. That same year, he appeared in another thriller movie "Strange but True", playing the role of Chaz. Mena followed this up by starring as Kamal in "Run This Town".
Other Ventures
Despite his acting roles, Massoud provided his vocals for the character of Rumi in the animated adventure film "Lamya's Poem" in 2021. He also had the role of Prince Thomas in the Netflix film "The Royal Treatment" in 2022.
Massoud landed the recurring role of Tarek Kassar in season 1 of the American action film "Jack Ryan" in 2018. Later, he continued to play roles in TV series such as Reprisal, 9-1-1: Lone Star, and History of the World, Part II. Aside from this, Mena provided vocals in the action-adventure video game "Watch Dogs 2".
Massoud also tried his hand at business and got brand offers throughout his career. He became a vegan and founded "Evolving Vegan", a plant-based food travel show. In late 2018 Egypt's Ministry of Migration announced Massoud as the ambassador for "Speak Egyptian".
It's an initiative that aims to protect the Arab identity of the Egyptian diaspora and their respective Arab kids. In 2018 and 2019 Mena has done endorsement work for companies Evolving Vegan, and Genesis Cars. 
Career Highlights
Ordinary Days (Film, 2017)
Final Exam (Film, 2017)
Masters in Crime (Short comedy film, 2018)
Aladdin (Film, 2019)
Tom Clancy's Jack Ryan (TV series, 2018)
2019 Teen Choice Award, Choice Sci-Fi/Fantasy Film Actor _ Nomination
2019 GQ Men of the Year Award, Breakthrough Talent _ Won
Mena Massoud Net Worth
Mena Massoud is one of the most recognized actors from Cairo, Egypt. He came into popularity for playing the character of Aladdin in Disney's live-action remake of the upcoming film Aladdin.
Over the year, Mena starred in numerous films and TV series. He has managed to make a name for himself in the entertainment industry for his outstanding roles. As of 2023, Mena Massoud's net worth is approximately to be $500,000.
You May Like: