Lisa Kelly is an American trucker and reality TV personality who has a net worth of $1 Million. She is best recognized for her appearance on the television series, "Ice Road Truckers." Lisa followed this up with being featured in its spinoff series, "IRT: Deadliest Roads."
She is the only female driver on the reality show, who perform the most extraordinary journeys in extreme conditions. While she wasn't in the first season of "Ice Road Truckers" and only joined in later, Lisa won the love of viewers by being fearless and determined.
Apart from being a trucker, she is also a state freestyle motocross champion and earned a lot of popularity in her career. In the 8th season of the show, she continually brought her A-Game to set and was never really caught lacking. 
What is Lisa Kelly's Net Worth?
[table id=141 /]
Early Life
Lisa Kelly was born on December 8th, 1980, in Grand Rapids, Michigan. At the age of 6, she moved to Sterling, Alaska with her family. There she spent her entire childhood on a mini farm until Lisa returned to Grand Rapids for her education.
After completing high school studies, Lisa moved back to her hometown to enroll at Cornerstone University. She went to attend only 1 semester in college before dropping out and returning to live with her parents in Alaska.
From that point on, Lisa began working jobs one after another. She got her first job at pizza hut and then at the gas station. She also worked as a school bus driver before eventually becoming a state freestyle motocross champion. Her passion for becoming a motocross rider led her to pursue a career as a trucker.
Career
Lisa began her career by taking training as a trucker. Soon she grabbed the attention of the haulage company, "Carlile Transportation." The company gave her the offer to become one of their truck drivers in the Alaskan wilderness.
In 2009 Lisa began featuring in the History Channel's reality series, "Ice Road Trucker." She became the only female who drives a truck in season 3 of the series. Soon, her popularity grew because of her amazing driving skills and determination.
Lisa continued to appear in season 4, and seasons 5 and 7 of the "Ice Road Trucker." During her appearance, she faced every storm, every sharp bend, and a frozen lake. She had to drive over with the grittiest determination and compete for trust in her truck as well as her abilities.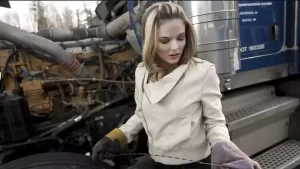 Breakthrough
Lisa and other male truckers including Rick Yemm, Dave Redmon, and Alex Debogorski went to drive the trucks in India, Peru, and Bolivia. while appearing in "Ice Road Truckers: Deadliest Roads."
After appearing in seasons 3, 4, and 5, Lisa got an offer to return to the show for season 6th, but she declined the offer. Kelly decided to take the year off to find herself. She came back, was primed, and was ready to go for season 7th, in 2017.
The female trucker made her return in season 9 and began working with Darrell Ward's new firm before he passed away in season 10. "Ice Road Truckers' 11th season premiered later in which Lisa appeared as well.
Other Ventures
In an interview with Overdrive, Lisa revealed that she no longer works for "Carlile Transportation" and now works for another Logistics supplier. She still goes to the same Alaskan city Kenai to Prudhoe Beirut that she did several times on the show.
This journey is very long like it's a 1500-mile-long route. It often takes Lisa from 30 to 35 hours to complete a single journey. She completes these journeys all on her own.
Personal Life
Lisa Kelly began dating a dirt bike rider named, Traves Kelly. The couple dated for almost 4 years and married in 2008. Lisa and Traves are living a luxurious lifestyle in Wasilla, Alaska.
Lisa enjoys motocross riding, skydiving, snowboarding, and horseback riding. She is also quite acting on social media like Instagram, Twitter, etc. Kelly is managed to bag a lot of brand endorsements because of her association with the hit show.
She has been showcased in multiple ads for "Chevron Delo." The brand also allowed her to tour North America while doing fan signs in events such as "Diesel Fest" and "The Great American Truck Show." Lisa set up her own eBay shop to sell merch that has her name on it.
Career Highlights
Ice Road Truckers
IRT: Deadliest Roads
Lisa Kelly Net Worth
Lisa Kelly is a popular truck driver and television personality from Grand Rapids, Michigan. She has established herself as one of the most hardworking and talented females in the country.
Lisa is earning more as a trucker now than she used to. She rose to fame after being part of the popular show, "Ice Road Truckers." After the last season of the show, she found herself getting invited to numerous Trucking exhibitions in the US and Canada.
She has managed to make a good fortune for herself through her appearance on reality TV shows, brand promotions, as well as other ventures. As of 2023, Lisa Kelly's net worth is estimated to be $1 Million.
You May Like: