Kim Tae-hee is a South Korean actress with a net worth of $16 Million. She gained recognition for her appearance in multiple Korean dramas including Stairway to Heaven, Love Story in Harvard, Iris, My Princess, Yong-pal, and Hi Bye, Mama!
Kim Tae began her career in 2000 and eventually became one of South Korea's most beautiful stars. She started modeling for brands and later got offers for film roles. In a short period, the actress established herself as one of the lead names in the entertainment industry.
What is Kim Tae-hee's Net Worth?
[table id=431 /]
Early Life
Kim Tae-hee was born in Ulsan, South Korea, on March 29, 1980, in a well-settled family. Her father Kim Yoo Moon is a businessman who established the Hankook Union Transportation Company and began working as a chairman in 1984.
Tae grew up with her older sister Kim Hee-won and a younger brother Lee Wan. Her brother followed in the footsteps of Kim Tae and became an actor, appearing in his sister's TV show "Stairway to Heaven".
While growing up in Ulsan, Kim Tae attended Samshin Elementary School before enrolling at Daehyun Middle School and Girls' High School in the city. Upon her high school graduation, she moved to Seoul in 1999.
She went on to obtain a bachelor's degree in Fashion Design from Seoul National University. While studying in college, Kim Tae started working as the president of the SNU Women's Ski Club and graduated from UNI in 2005.
Career
Kim Tae's modeling career started when she was ordering food on the subway. That time one of the advertising executives was there who noticed her and quickly offered her a modeling gig. She accepted the offer and began appearing in TV commercials and print ads in 2000.
In the following year, Kim Tae made her acting debut with a minor role as Young Park Jung-yeon in the film "Last Present". A year later, she got a starring role in the short movie "Living in New Town" and then a sitcom "Let's Go". She followed this up by appearing in two more TV shows Screen and 2003's A Problem at My Younger Brother's House.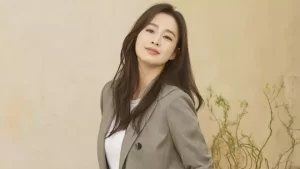 Breakthrough
In 2003 Kim Tae landed a breakout role in the hit SBS TV  romantic drama series "Stairway to Heaven". She had the role of Han Yoo-ri which led the actress to win the SBS Drama Award as well as the Second Andre Kim Best Star Award.
Following her success, Kim Tae became a household name in the South Korean film industry. She began starring in lead roles in further popular series including Forbidden Love and SBS' Love Story in Harvard in 2004. The actress gained huge popularity in South Korea as well as in Japan for her role in the series Love Story in Harvard. 
In 2006 Kim Tae co-starred alongside Jung Woo-sung in the fantasy action drama film, "The Restless". Again her appearance in the film won her 43rd Paeksang Arts Award and many others. She followed that up by appearing in the romantic comedy film, "Venus and Mars" in 2007. Kim Tae-hee has a net worth of $16 Million.
Further Success
In 2009 the actress had the role of Choi Seung-hee in the spy action thriller series "Iris" which became a commercial success. Two years later, she was in the spotlight for her role as Lee Seol in the romantic comedy series titled "My Princess".
She made her Japanese TV debut as Han Yoo-na i in the television series "Boku to Star no 99 Nichi" in 2011. As a result, she gained immense fame in Japan and garnered millions of new fans on social media. In 2013 she played the character of Jang Ok-jung in "Jang Ok-jung, Living by Love", her first historical drama.
In 2015 she made her return to the Korean industry, starring as Han Yeo-jin in the drama series "Yong-pal". The show became a big hit, earning her Korea Drama Award for Top Excellence Acting. As of 2023, she is set to star in the upcoming TV series "Lies Hidden in My Garden".
Other Ventures
After starring in two big projects Stairway to Heaven and Love Story in Harvard, Kim Tae became the lead choice for brands and television commercials. The famous Korea Broadcast Advertising agency selected her as the 2008's top advertising model.
Additionally, they gave her the title of "CF Queen". But she decided to pursue her career as an actor instead of modeling. Before 2010 Kim Tae was signed by Namoo Actors Agency, however, she left the company to make a new deal with Lua Entertainment.
She was also featured in music videos for the likes of g.o.d, The Jun, Park Yong-ha, Korean Catholic celebrities, and Ciipher. She has done endorsement work for numerous brands such as ShinWon, Lg Dios, Jinro, and many more. Kim has established herself as one of the most in-demand product endorsers in her country.
Along with her success in showbiz, she became the spokesperson for high-end brands such as Prugio, Toyota, Maxwell House, S-Oil, Corn Silk Tae, 12Plus Colorista, Cyon, Paris Baguette, Vivian, Daewoo Matiz, Klasse, iriver, Hera, Ohui, Vivian, Beans Avenue, Olympus, My House/Root, and Crencia, among others.
Personal Life
Kim Tae-hee has been in a relationship with singer and actor "Rain" since 2012. After dating for many years, the two got married in January 2017. In October of that year, she gave birth to her first child. Kim Tae and Rain welcomed their second daughter in September 2019.
Career Highlights
Stairway to Heaven (TV Series, 2003)
Love Story in Harvard (Series, 2004)
Iris (Drama series, 2009)
My Princess (2011)
Yong-pal (2015)
Hi Bye, Mama! (2020)
SBS Drama Awards, New Star Award _ Won
Being listed on the Forbes list as "Korea Power Celebrity 40"
Kim Tae-hee Net Worth
Kim Tae-hee is one of the rising stars in the South Korean entertainment industry. She gained recognition for her appearance on Stairway to Heaven. Kim accumulated a lot of wealth and fame from her thriving career.
The South Korean actress Kim makes money from appearing in hit TV series, and films, as well as brand endorsements. She also earns from brand sponsorships and business ventures. As of 2023, Kim Tae-hee's net worth is estimated to be $16 Million.
You May Like