Katie Bell is an American model and social media star who has a net worth of $2 Million. She is best known for being one of Dan Bilzerian's girlfriends. Following her popularity on social media, she started getting sponsors from the likes of Fashion Nova.
Bell began her modeling journey and attended several lavish parties. She amassed over 1.5 million followers on Instagram alone. Katie Bell was seen on the arm of Dan Bilzerian and became one of the top models for his brand Ignite Cannabis Co.
Katie Bell, the American model, and Instagram celebrity, gained fame after being featured in a video by Ricegum and Barstool. She also appeared on "The Night Shift" with Logan Paul's co-host, Mike. Today, we will take a closer look at her net worth and career, as well as her relationship with Dan Bilzerian.
What is Katie Bell's Net Worth?
[table id=584 /]
Early Life
Katie Bell was born on March 30th, 1995, in Palm Harbor, Florida. She grew up with an older sister and two younger brothers. Katie attended high school in Palm Harbor.
Career
Before becoming an Instagram model, Katie did a hand full of odd jobs while living in a St. Petersburg area of Florida. At first, she did work as a manager for a Vape company known as "Lizard Juice" but she wasn't earning stacks.
Later, she was moved to the manager at a different store before working in the corporate office. Katie did customer service and was the social media director for about five years.
Katie's first Instagram post was in January 2016 and it was a video of her walking through a department store. Standing at 5 feet 10, Katie caught a lot of people's attention.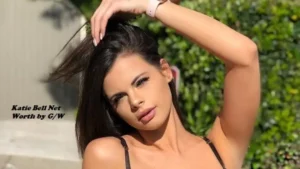 Breakthrough
The turning point of Katie's career came in September 2018 when she moved to Los Angeles full-time. She grew her IG from 4k followers to now over 1.5 million. After earning a massive fan base, Katie continued to endorse high-end brands including KO (KnockOut) Watches, Fashion Nova, Livin Cool, and Ignite Cannabis Co. 
She now lives in Dan Bilzerian's mansion alongside a bunch of other girls. Katie also hit it off with famous YouTuber RiceGum's girlfriend Abby Rao and the two appear to be BFFs.
Personal Life
Katie Bell first met American poker player and millionaire Dan Bilzerian in 2015. At this time, she had a job at a company called Lizard Juice. Dan saw her potential and gave her an opportunity to move to his mansion in Bel Air, California.
Katie Bell Net Worth
Katie Bell established herself as one of the top models for Dan Bilzerian's brand Ignite Cannabis Co. She came from pretty humble beginnings.
Bell found success after making the move out to California from Florida with hopes of becoming a model. She soon grabbed the attention of Dan and she since posted to IG.
Her source of income comes from brand endorsements as well as some business ventures. As of 2023, Katie Bell's net worth is estimated to be $2 Million.
You May Like