Kali is an American rapper and recording artist who has a net worth of $1 Million. She is best known for hit songs like "Wet" and "Area Codes". She is one of the up-and-coming female rappers in the music industry.
Kali began her rap career when she was 12 years old. However, her popularity grew in November 2020 when her single "Do a Bi**h" went viral on TikTok. Following the success she continued to drop a one-hit track after another.
What is Kali's Net Worth?
[table id=380 /]
Early Life
Kaliya Ashley Ross was born on July 29th, 2000 in Roswell, Georgia. She was raised by her Panamanian mother on the North side of Atlanta along with the help of her maternal grandmother.
Her mom taught her the importance of hard work, and her grandmother pushed her to always believe in herself. But it was Kali's stepfather who turned her into a performer.
Her stepdad was a music producer and he had set up a recording studio in the home's spare bedroom so he could make some beats. Around this time, the house had only three bedrooms, meaning Kali had to live with her brother.
So Kali and her stepfather made a deal, if she wrote 13 songs all on her own then she could have her own bedroom. Kali finished writing every single track a month later and then recorded the songs with her stepdad's help.
Career
Kali officially became a 12-year-old rapper with the help of her stepdad. She began listening to the likes of Nicki Minaj and Aaliyah and she knew how she wanted to present herself to the world.
When Kali entered her teenage years she kind of lost track of music for a while as she focused more on athletics. Additionally, she began earning some disposable income while working at Chipotle.
After working for a month in the fast food industry, Kali picked up work at a "TOPGOLF entertainment venue before considering joining the Air Force. Instead of doing that, however, she ended up working at a senior living facility.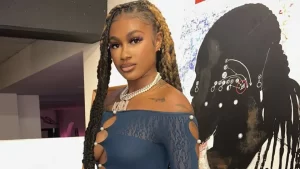 Breakthrough
In 2018 Kali's mother found out that Netflix was holding auditions in Atlanta for their upcoming music competition series called "Rhythm + Flow". She quickly convinced her daughter Kali to show her skills in the show. Kali only made it to the second round of auditions.
In November 2020 the rapper Kali eventually released her breakthrough single "Do a Bi**h". Before dropping this track, she knew that she had something special in her hands. She held onto the song for seven months waiting for the right time to release it.
Upon the release of her breakout single, Kali signed her first major deal with Atlantic Records. Over the next 12 months, her single earned over 12 million streams on Spotify between the original versions as well as its three remixes. Kali has a net worth of $1 Million.
Further Success
Kali dropped her EP "This Why They Mad Now" in January 2021. Thankfully she was able to submit her position as one of hip-hop's most promising when she released "MMM MMM" in November 2021.
In the following year, Kali dropped her sophomore EP titled "Toxic Chocolate" featuring eight songs including the song "MMM MMM". This project featured collaborations alongside Bia, Young Blue, and Muni Long.
In March 2023, rapper Kali released her song "Area Codes" which helped her to score her first appearance on Billboard Hot 100. Moreover, the song launched the 54th spot and was the highest new entry on the chart that week.
Other Ventures
Kali's song "MMM MMM" was produced by superstar ATL Jacob and it proved to be popular across digital streaming platforms. It wound up producing remixes from the likes of Latto and Moneybagg Yo.
After collaborating on that song, Latto brought Kali on tour. That propelled the young star's fame to new heights and set the stage for the next step in her career.
Career Highlights
Do a Bi**h (Song, 2020)
This Is Why They Mad Now (First mixtape, 2021)
Area Codes (Song, 2023)
Being named "XXL Freshman Class" of 2022
Kali Net Worth
Kali is a rapper from Roswell, Georgia who gained a lot of fame in the music industry over the past couple of years. Her popularity grew when she dropped her hit single in 2020.
Since then she has not only signed with Atlantic Records but also worked with some high-profile artists. Kali made a name for herself in music and found herself on the XXL Freshman Class list. As of 2023, Kali's net worth is estimated to be $1 Million.
You May Like: