HoYeon Jung is a South Korean model and actress who has a net worth of $4 Million. She is on her way to becoming one of the most accomplished supermodels of all time.
In 2010 she began her career as a model walking in Seoul Fashion Week shows for almost 2 years. She first came to the spotlight after being the runner-up in the reality TV show "Korea's Next Top Model" in its fourth season in 2013.
HoYeon gained worldwide recognition for her outstanding performance in the 2021s Netflix series "Squid Game". After appearing in Netflix's most popular drama series, "Squid Game", Jung's fame has exploded as more and more fans are blown away by her stunning beauty and impressive acting chops.
What is HoYeon Jung's Net Worth?
[table id=241 /]
Early Life
Jung Ho-Yeon was born on June 23rd, 1994, and was raised in a small neighborhood in Seoul, South Korea. From a very young age, Jung was already concerned with how she might eventually earn a living for herself.
She grew up with two sisters. Both of her parents run a restaurant business. In terms of education, she majored in modeling at the College of Performing Arts – at Dongduk Women's University.
In middle school, she used to spend time worrying about her future and stressing over how she might earn enough money so she could pay the bills. Because she was relatively tall from an early age, Jung ultimately decided to give modeling a chance.
Career
In 2010, Jung began her modeling career at the age of just 16. She spent the next two years booking her gigs and interviewing at numerous agencies. In 2012 she met with folks at "ESteem Models" and was signed to one of their top spots.
A year later Jung found herself on the set of season four of "Korea's Next Top Model". Within two weeks of being on the show, she got enlightened from the third episode. In the next week, Jung packed her back for leaving the house behind. However, she returned in week five and had to go on to win the next two competitions before placing as runner-up.
From that point on Jung began booking gig after gig, appearing in several local editions of magazines like Vogue, Elle, and W. Jung spent three years as one of Korea's most in-demand pictorial models.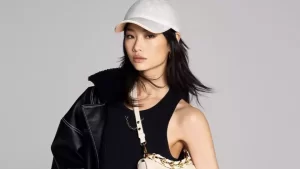 Breakthrough
In 2017 she made her debut on the International runway during the opening ceremony of "New York Fashion Week". At that event, she was sporting a "fiery" shade of red hair that went on to become one of her signature looks.
Later that year she flew to Millan for shows by Ferretti, as well as Fendi. In addition, she made her Paris debut as an exclusive model for Louis Vitton. By the end of 2016, W was selecting Jung as one of the "Top 10 Breakout Models of the Year".
Following her success there, Jung booked shoots for some of the biggest Western fashion magazines like Harper's Bazaar, Sephora, the Gap, and many more.
In 2018, she decided to pack up all her bags and make the move to New York City to live there full-time. There she spent a lot of time watching films and reading books. She says that this experience gave her a renewed sense of purpose and a new desire to explore the world of acting.
Acting
After taking her first acting classes Jung secured an agent for herself before she knew it her first script had arrived. The producers of the Netflix series "Squid Game" asked her to submit an audition tape and she probably did. Eventually, Jung landed her first acting gig.
She got the role of Kang Sae-byeok, so she got to work researching her role as a North Korean refugee by watching numerous documentaries about North Korea. Additionally, Jung began speaking with a North Korean accent by working with a dialect coach. Finally, she was able to find the similarities between herself and her character.
Other Ventures
Before "Squid Game" launched on Netflix in 2021, Jung had around 400,000 followers on Instagram and now she has over 21 million followers. Despite this, she began her career as a model and has done endorsement work for numerous high-end brands including Chanel, Sephora, Louis Vuitton, Gap Hermès, and more.
After establishing herself as one of the top models, Jung got an opportunity to become a brand ambassador of "Louis Vuitton" in October 2021.
Personal Life
HoYeon Jung and South Korean actor Lee Dong-hwi started dating in the year 2015. The two are in a happy relationship and enjoying a lavish lifestyle.
Career Highlights
Korea's Next Top Model (Reality TV show, 2013)
New York Fashion Week (international runway debut, 2017)
Squid Game (Netflix series, 2021)
2022 Screen Actors Guild Award, Outstanding Performance by a Female Actor in a Drama Series _ Won
2022 Primetime Emmy Award, Outstanding Supporting Actress in a Drama Series _ Nomination
2022 MTV Movie & TV Awards, Best Breakthrough Performance _ Nomination
HoYeon Jung Net Worth
Jung has accumulated a lot of wealth and popularity throughout her modeling career. But the turning point of her career came in 2021 when she was selected for a role in the hit series "Squid Game". That series not only earned her awards but also worldwide fame.
Jung starred in "Squid Game" alongside some renowned actors such as Heo Sung-tae, Anupam Tripathi, and more. She garnered a lot of fan base on social media platforms where she often endorses brands and earns money. As of 2023, HoYeon Jung's net worth is estimated to be $4 million.