Grant Gustin is an American actor and singer with a net worth of $9 Million. He earned himself a name in the entertainment industry after playing the recurring role of Sebastian Smythe in the Fox musical comedy series "Glee." The show ran from 2011 to 2013.
Since then Grant began getting offers from some of the big projects in showbiz. In 2014 his breakout role Barry Allen came in The CW superhero series "The Flash." The show became a massive success and Grant's impressive performance led him to receive numerous awards.
Grant began his professional acting career back in 2006 appearing in his first TV show, in an anthology series "A Haunting." He had a guest role in the series and from that point on he continued to appear in a number of movies and television series.
What is Grant Gustin's Net Worth?
[table id=188 /]
Early Life
Thomas Grant Gustin was born on January 14th, 1990, in Norfolk, Virginia, USA. His father Thomas Gustin was a college professor and his mother Dr. Tina Haney worked as a pediatric nurse. At the age of 8, he began learning tap dancing. Grant has an older brother Tyler and a younger sister Gracie.
He was always interested in arts so he went to attend the Governor's School for the Arts in Norfolk where he studied Arts program. In the meantime, he enrolled at the theater organization "Hurrah Players Incorporated" to pursue an acting career.
In 2008 Grant graduated from Granby High School and went on to study in the two years BFA Music Theater Program at Elon University in North Carolina. While in college he and actor Chris Wood became good friends.
Career
In 2004 Grant got a chance to play the role of Logan in the student movie "Rain." Around that time he was still studying in high school. Before appearing in this film, he had a minor role in the 2003 DVD film "Kid Fitness Jungle Adventure Exercise Video."
Grant portrayed Baby John in the musical Broadway of "West Side Story" from 2010 to 2011. In November of that year, Gustin was named the play the recurring role of Sebastian Smythe in the hit musical series "Glee." His performance in the series allowed him to appear in several other projects.
From 2011 to 2013 he was cast in the series "Glee" and in the meantime, Grant had guest roles in shows including "CSI: Miami," "A Mother's Nightmare," and "90210." In 2014 he played the main role of Todd Goodman in the independent drama film "Affluenza."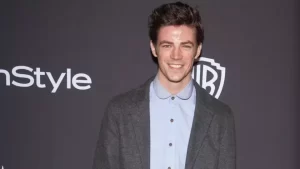 Breakthrough
In September 2013 Grant got the major role of Barry Allen in the second season of the hit superhero TV series "Arrow." The director of the series first decided to select him for just 3 episodes and after seeing in outstanding performance they named him as a series regular. The show ran from 2013 to 2020 and became a viral success, earning Grant numerous accolades.
While appearing in "Arrow" Grant began playing the same lead role as Barry Allen in the hit series "The Flash." In 2014 he began starring on the show alongside actors, Carlos Valdes, Danielle Panabaker, Candice Patton, and more.
In 2016 he was selected to appear in another superhero television series "Supergirl" which ended in 2019. Grant also guest appeared in his role as Barry Allen in the superhero series "Legends of Tomorrow" in 2016. He continued to appear in episodes of the TV series including "Batwoman" in 2019.
Other Ventures
Apart from television and web series, Grant appeared in the 2017 film "Krystal," and then the 2018 short film "Tom and Grant." In 2022 he starred as Dan in the Netflix film "Rescued by Ruby."
Following his success in Glee, Gustin began his singing career. In 2012 he and actress Naya Rivera performed the song "Smooth Criminal" in Glee's third season in an episode titled "Micahel." The cover went viral, peaking at number 26 on the Billboard Hot 100 and number 10 on the Billboard Digital Songs chart.
Personal Life
Grant and Instagram star Andrea "LA" Thoma started dating in 2017 after the two met at a dinner party. In April of that year, they announced their engagement, and then in 2018 they got married. Andrea gave birth to her first daughter "Juniper Grace Louise" in August 2021.
Real Estate
Grant Gustin has a net worth of $9 Million and The Flash can afford luxurious properties. In May 2023, he spent nearly $4.8 million on a lavish house in the beautiful place of Encino, California. This 2017-built home is spread over 6,600 square feet of living space and features five beds and five baths. Grant bought this house from Irv Gotti, a famous American DJ.
Career Highlights
Glee (series, 2011-2013)
Arrow (Series, 2013-2020)
The Flash (The CW series)
11 Teen Choice Awards, 4 _ Won
6 Saturn Awards, 1 _ Won
2 MTV Movie & TV Awards _ Nominations
4 Kids' Choice Awards _ Nominations
2021 Critics' Choice Super Awards, Best Actor in a Superhero Series _ Nomination
Grant Gustin Net Worth
Grant Gustin is one of the most prominent young actors in the American film and television industries. He gained a lot of fame at an early age. Grant rose to fame after appearing in the superhit series "Glee" in 2011. He mainly earns from his acting career appearing in series and movies.
In early 2022 Grant reportedly signed a new contract with The Flash's producers for season 9. According to this deal, he will appear in 15 episodes and get over 200,000 per episode salary. As of 2023, Grant Gustin's net worth is estimated to be $9 million.
You May Like: