Fanum aka Roberto is an American YouTuber and content creator who has a net worth of $3 Million. He gained recognition on the internet for creating impressive content on his YouTube channel called JustFanum.
Fanum came to the limelight when he began sharing New York lifestyle and different New York City deli food reviews. He has combined over 2 million subscribers on his multiple YouTube channels.
He exploded in popularity as a member of AMP (Any Means Possible) by collaborating with the likes of Kai Cenat, Duke Dennis, Agent 00, ImDavisss, and Chrisnxtdoor. Fanum got his start as a content creator in the Eighth Grade and earned popularity at an early age.
What is Fanum's Net Worth?
[table id=561 /]
Early Life
Roberto Gonzalez was born on August 22nd, 1997, in the Bronx, New York, United States. He was raised by a family of Dominican descent. Fanum grew up with his younger brother.
Before turning himself into a social media star, he had an eventful childhood. During the fifth grade, Fanum had already managed to get himself expelled due to some behavioral issues. Consequently, his mother sent him away to the Dominican Republic to reside with his father.
Two years later in the seventh grade, he got into another altercation with the school principal that resulted in him returning home to the Bronx. Besides his education, Fanum was searching for purpose upon his return to America.
Career
Fanum discovered YouTube while he was in the eighth grade. He got his start as a content creator, but at first, he didn't post his videos. Instead, Fanum came up with the idea to post other channels' content and pass it off as his own, in particular material by brands such as "World Star".
However, he didn't find success with this, so Fanum began coming up with his original content. He took inspiration from early YouTube channels like "White Boy Seventh Street", and launched his career into the world of streaming.
He began his career with the video game, "Call of Duty" which he posted on his YouTube channel he created in January of 2013 that was originally known by the name of "PlayStation Rob". At first, the problem was, he was just copying the vocal cadences of others.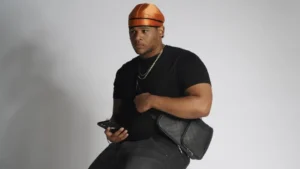 Breakthrough
The turning point of his career came when he switched up his game of choice by leaving Call of Duty behind. He wound up joining the NBA 2K Community, changing his name to "FanumSlice", eventually simply Fanum.
Despite being busier, Fanum decided to attend the New York City College of Technology in Brooklyn to earn himself a degree in Architecture. Around that time, his channel was averaging only 10,000 subscribers.
As his subs continued to grow he decided to invest his time and dropped out of college to pursue YouTube full-time. Soon enough, Fnaum was reaching out to other content creators and became a member of the popular collective known as "AMP".
Further Success
When Agent 00 originally came up with the idea to form a crew, he had already become familiar with Fanum thanks to the 2k Community. Agent sent Fanum a message offering that they find a shared space to live in together.
After accepting the invitation, Fanum came up with the name "AMP" which stands for Any Means Possible. In a relatively short period, other members like Duke Dennis, Kai Cenat, and many two joined the crew. In 2017.
Fanum created the channel "JustFnaum". Instead of focusing on gaming streams, his content began to reflect his passion for New York City Life by focusing on real-life adventures including educating his fans. These highly entertaining videos wound up getting viral.
Other Ventures
His channel reached over 300,000 subscribers in early 2020 before eventually surpassing the follower count on his first channel with a total of 1.3 million subs. These numbers cemented Fanum's popularity on the internet and he earned millions of dollars.
In July 2023 the news came out that Fanum had allegedly been arrested. Afterward, he made a video on his original YouTube channel which has since been renamed "Fanum Live".
A police car circled the block multiple times to observe Fanum and his friend, and later a group of undercover officers arrived at the scene, leading to his arrest.
Fanum asked for an explanation of the situation, and to his surprise, the officers did not arrest him immediately. Instead, they requested him to take some selfies with them. He isn't currently in prison or not in any trouble.
Career Highlights
Here are some of the most popular videos of Fanum:
I TRICKED AMP TO DO COCA COLA VS MENTOS IN A CAR! (2021)
Trapped in A Airport for 24 Hours (2022)
I WENT TO THE WORST RATED DELI IN ATLANTA (2023)
Kai Cenat & Fanum Get High For The First Time (2023)
Fanum Net Worth
Fanum is one of the rising stars on the internet who gained a lot of popularity at an early age. He rose to fame after joining the popular collective known as AMP. Since then, his subscribers and social media followers continued to grow.
Fanum makes money from creating content on his YouTube channels as well as collaborations with other stars. He also did some investments in New York City which is another great source of his revenue. As of 2023, Fanum's net worth is estimated to be $3 Million.