Dominic Fike is an American singer and actor who has a net worth of $5 Million. He first gained some traction on SoundCloud following the release of his couple of songs. Apart from music, Fike tried his hand at acting, appearing in the hit series "Euphoria" in 2022.
In 2018, Dominic earned mainstream success after releasing his debut EP "Don't Forget About Me, Demos". The project became enough success and caught the attention of Columbia Records with whom he signed. Under the label, he continued to release more and more hit singles.
His debut EP also contains a hit single "3 Nights" which wound up reaching the top ten spot in a number of countries. Following that success, he worked with the likes of Justin Bieber on his track "Die For You".
What is Dominic Fike's Net Worth?
[table id=279 /]
Early Life
Dominic David Fike was born on December 30th, 1995, in Naples, Florida. He has Filipino and Haitian ancestry. Dominic grew u with his older brother Sean, younger brother Alex and a sister named Apollonia.
As a kid, he was always interested in music, and even he began learning to play guitar at the age of 10. Dominic cites some acts like Jack Johnson, Blink-182, and Red Hot Chili Peppers, are his biggest musical inspirations.
In terms of education, he attended a handful of schools including Naples High and Estero High. Later, he went to a computer school. In 2014, Dominic graduated from Ridge High School. Around that time he was already making music, so he didn't pursue further studies. However, Fike went to college for just 3 days.
Career
Fike began his musical career while studying in high school. Around that time he uploaded his first song titled "Not A Word" on YouTube. Later, he teamed up with his producer Hunter Pfeiffer, to make some beats which earned him some early traction.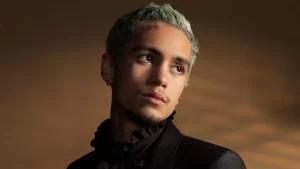 Breakthrough
Fike continued to upload his songs on SoundCloud, and most of them became successful. Following that, he released his debut 6 track EP "Don't Forget About Me, Demos" in October 2018. "3 Nights" was the lead track in this EP which went viral, earning millions of streams online.
The song "3 Nights" wound up peaking in the top 10 of the charts in different countries including Australia, Ireland, as well as the UK. Additionally, the music video for the song was uploaded on his channel in April 2019, and it amassed over 45 million views on YouTube.
In 2019, Fike dropped more tracks "Açaí Bowl", "Rollerblades", and the hit single "Phone Numbers". In the following year, he released some more songs like Politics & Violence, and Cancel Me. 
Fike's debut album "What Could Possibly Go Wrong" was scheduled to be released in July 2020. It earned him massive recognition after being charted in the top 50 of the United States, Australia, and many other countries.
He followed up with new singles "Vampire" and "Why", both of which became hits. In 2021, he uploaded the cover of Paul McCartney's song "The Kiss of Venus". That same year he was featured on the song "Die For You" by Justin Bieber.
Other Ventures
In August 2018, Dominic reportedly signed a $4 million deal with Columbia Records. He spent most of this money on his mom's lawyer fee, who was facing drug charges around that time. Despite the music, Fike partnered with "Marc Jacobs" to launch a clothing line in September 2019.
In July 2019, Fike announced his North American leg of the tour called "Rain or Shine". It started in Philadelphia and concluded in LA in October of that year. During that Rain or Shine tour, he sang "Chicken Tenders" at a Chicago show.
In January 2020, the popular singer, Halsey released her third album "Ma*ic" in which Fike contributed to the song "Dominic's Interlude". As an actor, Fike got the main role of Elliot in the hit HBO drama series "Euphoria" in its second season which became in August 2021.
Personal Life
According to buzzfeednews.com, Domini Fike has been in a relationship with actress Hunter Schafer since 2022. He was previously dating actress Diana Silvers as well as Massima Desire.
Career Highlights
Don't Forget About Me, Demos (First EP, 2018)
3 Nights (Song, 2018)
What Could Possibly Go Wrong (Debut album, 2020)
Elliot's Song (with Zendaya, 2022)
Euphoria (HBO series, 2022–present)
2020 NME, Essential New Artists for the Year _ Named
2020 Grammy Award, Album of the Year (as a featured artist) _ Nomination
2022 MTV Movie & TV Award, Best Kiss _ Nomination
Dominic Fike Net Worth
Dominic Fike is one of the rising stars in America. He established himself in both the music and the entertainment industry. Fike first gained recognition in music by releasing his breakout single "3 Nights" and then began starring in the series "Euphoria".
He makes a vast chunk of money from releasing new albums as well as from his acting credits. Dominic started gaining fame in 2018 and now became one of the lead celebrities in the music scene. As of 2023, Dominic Fike's net worth is estimated to be $5 Million.
You May Like: