Crystal Hayslett is an American actress, fashion stylist, and executive producer who has a net worth of $3 Million. She came to the spotlight after starring as Fatima on the BET sitcom called Sistas produced by Tyler Perry.
Aside from showcasing her acting skills, Crystal is a well-known fashion stylist. As a costume designer, she worked for a couple of hit shows including BOO! A MADEA HALLOWEEN, The Paynes, and The Haves & the Have Nots. 
Crystal began her professional career as a film costume designer and later established herself as one of the lead American actresses as well as producers. Despite this, she is quite active on social media, having nearly a million followers on Instagram alone.
What is Crystal Hayslett's Net Worth?
[table id=540 /]
Early Life
Crystal Renee Hayslett was born on October 18th, 1982, in Martin, Tennessee, the United States. While growing up she developed an interest in arts and later began participating in singing shows.
As a child, she loved performing at church choirs which helped craft her passion. During high school, Crystal found her love for acting and started participating in school plays.
Upon high school graduation, she enrolled at the University of Tennessee. Afterward, Crystal went on to pursue a career in the American entertainment business.
Career
Crystal started her career while she was still at University. She got a job as a public servant before being recruited to perform as an intern for the United States Senate in Washington. She was appointed to work at Senator Lamar Alexander's office on Capitol Hill.
Following her internship, she got an opportunity to participate in the team of Senator Alexander. Crystal went on to work at the front office, later becoming a correspondent for HELP, Senator Alexander's chaired committee.
Thanks to her work with Senator Alexander's team, she gained a lot of political experience. However, she left her job after realizing that she had no interest in politics and it wouldn't be her career. Crystal worked for about 2 and a half years with the Senator team.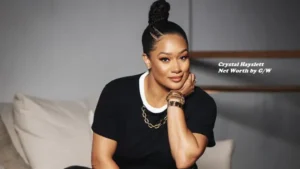 Breakthrough
Crystal had a big break in 2012 when she got a chance to work in Tyler Perry Studios' costume department. Her impressive work in the department led her to become the personal stylist and costume designer for Tyler Perry within two years of her work.
Crystal crafted her acting skills while working as a stylist and costume designer for Tyler Perry and other celebrities. During that time, she began auditioning for things at the studio but none of the directors were impressed by her acting skills.
Further Success
Surprisingly, Tyler Perry had no idea that Crystal had an interest in acting. She continued to audition for TPS for the following 7 years. Crystal eventually caught the attention of Tyler Perry and was selected for the big role of Fatima in the hit BET series Sistas. 
Crystal started appearing in the first season of Sistas in October 2019, but her role was minor. Her outstanding performance helped her to become the series regular in the second season of Sistas.
She starred on the Sistas alongside KJ Smith, Novi Brown, and Ebony Obsidian. Thanks to her appearance on this particular show, Crystal became one of the household names in showbiz.
Other Ventures
In 2018, she starred as Gale in the film The Choir Director followed by her work as a costume designer in Nobody's Fool and Acrimony. In 2022, she got the role of Fatima in the hit comedy series Zatima in its first season. Despite this, Crystal also worked as a designer in the 2020 series Young Dylan. 
Real Estate
Crystal Hayslett accumulated a net worth of $3 million from her successful career, so she can afford luxurious properties. She is living in a beautiful house which is located in one of the posh areas of Atlanta.
Despite this, the actress also shared a 6,500 square feet house tour with Quiana on the Oprah Winfrey Network. This five-bedroom mansion's price is about $3 million, though it's unclear whether Crystal bought this place or not.
Career Highlights
Hello (First EP, 2012)
Sistas (Series, 2019)
Working in the office of Senator Lamar Alexander
Crystal Hayslett Net Worth
Crystal Hayslett rose to fame after being featured in Tyler Perry's series Sistas. She is at the beginning of her career and has a lot more to do in showbiz. Following her success in the television industry, she started getting roles in further shows and movies.
Apart from this, she already earned great popularity for her work as a stylist and a costume designer for Tyler Perry's Studio. Before her breakthrough, Crystal Hayslett had a net worth of $2 million.
According to reports, she earned over $1 million in the year 2022. She makes money from appearing in television series as well as some other ventures like YouTube. As of 2023, Crystal Hayslett's net worth is estimated to be $3 Million.
You May Like