AI writing tools have become increasingly popular, as content creators and brands have begun to realize the potential that they have in taking their content writing to the next level. From coming up with new content ideas and generating full-length content drafts to even providing insightful suggestions on improving existing copy, these AI writing assistants can do it all.
To this end, the AI writer on the HIX.AI website and Copy.ai are two reputable tools that have been making waves for their capacity to consistently help users overcome writer's block and create better content. However, determining which one of these platforms is the best can be tricky, so we decided to break down and compare each one to help you pick the ideal AI writing tool for your needs.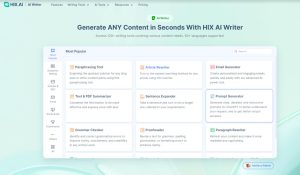 How Are HIX AI Writer & Copy.ai Similar?
HIX AI Writer and Copy.ai are two very different platforms in more ways than one but they are also similar in some ways. For starters, both writing tools utilize Open AI's GPT-3 language model, which enables them to analyze user inputs such as your desired topic, keywords, and more before extracting the relevant information from a wide range of online sources and generating unique, plagiarism-free copy.
Aside from that, the tools can be relied on to generate quality content drafts that can be used as a baseline for editing or even as wholesale content for bulk publishing. They also offer relatively affordable pricing packages, not to mention that they are versatile writing tools that can prove useful across a wide range of fields, industries, and niches.
Ultimately, both tools make great cases for themselves but now that we've established what similarities they share, let's move on to their key differences. You can also search this page if you want to compare these two options with other AI marketing tools out there.
How Is Copy.ai Different From HIX AI Writer?
Copy.ai primarily excels in generating high-quality short-form content such as social media captions, emails, product descriptions, ad copy, etc. Since the tool comes with over 45+ pre-set templates that users can choose from, this does well to help streamline the writing process significantly.
Aside from that, the platform comes with a user-friendly interface that does well to ensure that even first-time users have no trouble getting the most out of the AI writer. The AI writer also offers multi-language support that allows users to generate content in 25+ languages on any paid plan.
Copy.ai also excels in the customer service department, as it provides users with access to chat support at the bottom of the dashboard. This allows users to quickly get speedy assistance and the platform even offers informative tutorials that walk users through all of the features and tools available for use.
In addition, the writing tool has an extensive editor that makes it easy to tailor and format the content to fit within your desired writing style and standards. This includes the ability to view the content readability level, change its tone of voice, and more.
When it comes to pricing, Copy AI has a free plan that allows users to generate up to a maximum of 2,000 words/month with no credit card required. Users who need to generate more content will need to subscribe to the Pro plan, which starts at $36/month.
How Is HIX AI Writer Different From Copy.ai?
HIX AI Writer stands apart from Copy.ai in that it offers a good balance between generating high-quality short-form and long-form content with ease. In other words, the tool from HIX.AI is more balanced, as while Copy.ai has limited capabilities, this one provides access to over 120+ specialized writing tools.
Each of these tools encapsulates a vast range of areas such as e-commerce, academics, marketing, advertising, social media, and more. So, whether you need a slogan generator, email generator, essay writer, product description generator, or anything else, you can find what you need. To this end, HIX AI Writer is essentially a jack-of-all-trades writing tool.
On top of that, HIX.AI uses both GPT-3.5 and GPT-4 language models, which ensures that its tools can generate better content quality on a more consistent basis. Furthermore, it supports over 50+ native languages, offers over 7+ different tones to choose from, and caters to SEO optimization by allowing users to integrate targeted keywords with ease. 
Regarding UI, the platform may not be as quick to navigate as Copy.ai but it does have an extremely smooth and intuitive interface that is fun to explore. Plus, it does have a Chrome extension plug-in, which ensures that users can continue to access all 120+ AI writing tools while browsing on any website.
When it comes to customer support, this is an area that leaves room for improvement, as while Copy.ai users have full chat support, this tool requires users to subscribe to one of their paid plans to get priority customer service. However, HIX AI Writer does come with a discord community, where free users get advice from other experts and users.
In terms of pricing, Copy.ai is the only one that offers a free plan but HIX AI Writer does come with a free limited trial period that provides users with access to the entire platform's features and tools. If you want full access, the Basic plan starts at $19.99/month, which happens to be significantly cheaper than Copy.ai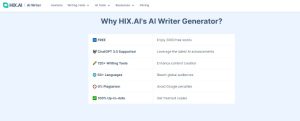 HIX AI Writer vs. Copy.ai – Which Is Better?
Which is the better AI writing tool between the two? Let's quickly summarize the key points. Copy.ai excels in generating short-form content, has an easy-to-use interface, numerous templates to choose from, provides reliable customer service, offers good customization options, and has a free tier plan.
On the other hand, HIX AI Writer is more well-balanced in content generation, has a wider library of specialized AI writing tools, uses both advanced GPT models, has a reliable Chrome extension plug-in, and is much more affordable in comparison.
If you consider all this, HIX AI Writer wins by a small yet significant margin. With this writing tool, you can be confident that every major aspect has been covered and that you will have everything you need, no matter what the writing task may be.
However, this doesn't mean that Copy.ai isn't worth using. On the contrary, it does have its bright spots, especially if your work primarily revolves around short-form content. Ultimately, both options are good, so the final choice will depend on your specific needs.
Conclusion
AI writing tools can be an efficient way of streamlining your content writing workflow but not all tools are created the same, which is why you need to choose wisely. Both HIX AI Writer and Copy AI are leading contenders and based on the information we've provided above, you should be able to come to a conclusion on which one to use.
However, the most effective way to determine the one that is best suited to your workflow is to test them both out. Copy.ai has a free plan and HIX AI Writer comes with a free trial period that doesn't require you to put up a credit card to access. This will provide you with an opportunity to experiment with each one until you are completely satisfied.