Baby Keem is an American rapper and record producer with a net worth of $2 Million. He provided production and additional vocals for some of the biggest projects including the "Black Panther" soundtrack.
Baby Keem rose to fame after the release of his breakthrough single "Orange Soda." The track went viral and caught the attention of high-profile artists with whom he collaborated.
He is been gaining popularity in the hip-hop community since the release of his second mixtape "Die for My Bi##h" in 2019. Following this, he collaborated with Beyonce, Kendrick Lamar, Travis Scott, Kanye West, and many more.
What is Baby Keem's Net Worth?
| | |
| --- | --- |
| Net Worth | $2 Million |
| Age | 22 |
| Born | October 22, 2000 |
| Profession | Rapper |
| Country | United States of America |
| Salary (Annual) | $500,000 |
| Last Updated | 2023 |
Early Life
Hykeem Jamaal Carter Jr. was born on October 22nd, 2000, in Carson, California, USA. His family relocated to Las Vegas, Nevada when he was still a kid. He spent most of his childhood in Las Vegas where he began listening to artists like Lil Wayne, Kayne West, Eminem, as well as 50 Cent.
After moving to Las Vegas he ended up living with his grandma there until the age of 8. His grandmother is credited with buying Keem his first microphone and she would always support his music. His entire family is musically gifted though, in fact, Kendrick Lamar is his cousin.
Growing up his biggest inspiration were Kid Cudi and Kanye West. While studying in high school he became obsessed with music. Moreover, his uncles and cousins also encouraged him to pursue a rap career. At the age of 12, he began focusing on music.
Career
Keem released his first song "Come Thru" at the age of 15. A track he has since taken down from the internet completely. From there he began writing songs and making beats without telling anyone. As a high school freshman, he began releasing tracks under his real name including "Options" in 2016.
In 2018 he eventually found confidence in his music and was ready to show the world how talented he was. He adopted a new moniker "Baby Keem." According to him, his two names provided him with the cover of having two different aliases.
In late 2018 Keem moved to Los Angeles and sent a pack of beats to Top Dawg Entertainment. This record label selected him to co-write and produce a track on Kendrick Lamar's "Black Panther" soundtrack. Soon after that, he created a Grammy Award-winning song for Jay Rock.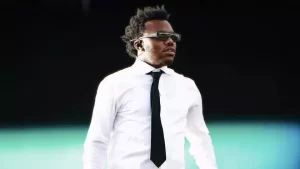 Breakthrough
In 2018 Keem's first EP "Midnight" came out with nine tracks that he recorded from his apartment. Later that year he released another EP "No Name." He followed that up by dropping an extended play "Hearts & Darts" in July 2019.
It was the release of his album "Die For My Bi##h" in 2019 that put him into mainstream success with its hit single "Orange Soda." That project became a massive hit and Keem was selected by XXL to be featured in their Freshman Class of Rappers for 2020.
Keem saw his breakthrough in 2019 with the release of his song "Orange Soda." While it wasn't a huge success only peaking at 98 in the US and 100 in Canada, however, it went viral on TikTok. The song was later certified Platinum by RIIA in August 2020.
From that point forward Keem continued to release more tracks including "Hooligan," "Sons & Critics Freestyle," and "No Sense." In April 2021 he collaborated with Travis Scott to release the song "Durag Activity." He followed this up by dropping another track "Family Ties" with Kendrick.
In September of that year his debut studio album "The Melodic" came out in which both of the previous tracks were included. The deluxe edition of "The Melodic Blue" was released in October 2022.
Other Ventures
In 2018 Keem teamed up with TDE on the "Black Panther" Soundtrack, producing and writing several tracks. This led to him working with TDE on Jay Rock's "Redemption," as well as Schoolboy Q's "Crash Talk." On these projects, he produced the songs "Numb Numb Juice" and "Lies" (ft Ty Dolla $ign and YG).
After the release of his debut album "Die for My B," many established artists gave him co-signs and waited for new music. The first high-profile co-sign was Drake who approached him through Instagram. When Baby Keem did his performance in Toronto he sold out at late Haul.
To support his debut album Keem headed Die For My B Tour in 2019. Later he was on the Melodic Blue Tour from 2021 to 2022. The rapper also works with artists like Kanye West on his album "Donda" and many others.
Career Highlights
Orange Soda (Song, 2019)
The Melodic Blue (Album, 2021)
Family Ties (Song, 2021)
Praise God (Song for Kanye, 2021)
2022 Grammy Award, Best Rap Performance _ Won
2022 BET Awards, Video of the Year _ Won
2 Billboard Music Awards _ Nominations
Baby Keem Net Worth
Baby Keem is one of the rising rappers and record producers in the music industry. He grabbed the attention of big artists and has already worked with them at an early age. Keem is still at the begging of his career and he has a lot more to do in the future.
The rapper mainly earns from music like releasing his own tracks, collaborations, live concerts, streaming platforms, as well as producing tracks for other artists. Additionally, he has an eponymous YouTube channel where he garners billions of views every month.
In August 2021 Keem uploaded the music video for the song "family ties" which amassed over 80 million views. Other than this, most of his videos have more than 10 million views. As of 2023, Baby Keem's net worth is estimated to be $2 million.
You May Like: