Ali Abdelaziz is an Egyptian MMA Artist who has a net worth of $3 Million. He is best known for being the former founder and acting president of Dominance MMA Management.
Abdelaziz represented some of the biggest fighters in the sport including Khabib Nurmagomedov. Despite this, he racked up a strong social media following such as nearly over 800k fans on Instagram alone.
Ali found himself caught in the center of Conor McGregor and Khabib's war of words during the promo of the legendary UFC 229. He established himself as one of MMA's biggest managers.
What is Ali Abdelaziz's Net Worth?
[table id=486 /]
Early Life
Ali Ibrahim Abdelaziz was born on December 5th, 1977 in Cairo, Egypt. He hails from a family with deep roots in martial arts. Many of his family members are Judo champions and Ali began training at the age of just 6 years old.
Because his family was unable to fund his training, his coach decided to train him for free. Ali took his training seriously so much so that at the age of 10 he won the Junior Nationals in Egypt.
He remained dedicated to Judo and by the age of 17, he competed in five national championships as well as four victories in the Pan African Games.
Career
In 1996 at the age of 18 Ali made his way to the United States where he lived in Colorado Springs, Colorado for some time. There he began practicing his fighting style at the US Olympic training center.
Not long after he was introduced to trainers Greg Jackson and Mike Winkeljohn. The two men introduced him to MMA which he seemingly fell in love with and began mastering Brazilian Jiu-Jitsu as well as competing in Japan.
His fight records show that he competed in 7 matches during his MMA career. During his Amateur years, he won three of four fights and only one of the three during his professional years.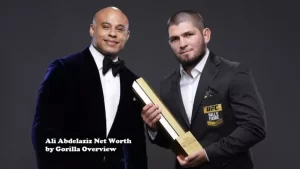 Breakthrough
In 2007 Ali decided to change things up and started representing fighters who wanted to get into the next level of MMA. It's out of this that Dominance MMA Management came to be, an organization based in New York City.
Other Ventures
Ali already had a prolific career in MMA, a different story is told in the book Enemies Within, inside the NYPD's secret spying unit. The book was written by Pulitzer Prize-winning journalists Adam Goldman and Matt Apuzzo.
It mentions a 25 years old MMA fighter named Ali Abdelaziz. He was recruited out of prison to assist with such efforts. The MMA journalist Mike Russell has been investigating his criminal history, claiming to have disproved Ali's involvement in the 1996's Olympics.
Personal Life
According to an excerpt from the book Ali was serving a sentence in a Colorado jail when Law enforcement recruited him to supply information on the Muslims of America.
The book states that not only did Ali accept their offer to avoid prison, but the United States also gave him a special green card which allowed him to enter and leave America. Ali apparently worked in various countries including Trinidad and Tobago as well as Venezuela.
The book Enemies Within further went on to detail that in 2008 Ali underwent a polygraph machine test where he was asked a couple of questions regarding his experience with the organization. He was dismissed as an informant after failing this task, as a result, he was deported back to Egypt.
Ali Abdelaziz Net Worth
Ali Abdelaziz is one of the well-known personalities in the MMA. He gained massive fame during the peak of his sports career. Ali has managed to accumulate a good sum of money from his successful career as the founder of his company Dominance MMA Management. 
His firm represented some of the most prominent names in MMA including Khabib Nurmagomedov, Kamaru Usman, Henry Cejudo, and Justin Gaethje. As of 2023, Ali Abdelaziz's net worth is estimated to be $3 Million.
You May Like