Clix's Net Worth is estimated at $2 Million. He is an American professional gamer and streamer from Connecticut. He gained recognition, all thanks to "Fortnite" which has opened the door for a new wave of widespread streamers.
He has managed to go from an unknown to one of the most popular streaming personalities on Twitch. It was all before ever graduating from high school. Clix was just 12 years old when he started his gaming career. He is best known for being one of the most popular streamers on Twitch.
The breakthrough of Clix's career came when he qualified for "Fortnite's" first annual World Cup". Since then, he's gone on to become one of the series' most successful streamers. In addition, he has established himself as a major force in the e-Sports organization NRG.
What is Clix's Net Worth?
[table id=20 /]
Early Life
Cody Conrod was born on January 7th, 2005, in the State of Connecticut. While growing up he developed an interest in gaming. At the age of five, he was passionate about becoming a pro gamer.
Cody began sneaking into his older brother's bedroom to play on his computer. Minecraft was his first video game experience. He promised his father that he will pay enough money to pay for a brand new PC after becoming a pro gamer.
When Covid 19 hit, Clix began studying through virtual classes like everybody else. When the pandemic ended, he was much more popular than he was ever before. The school was unwilling to accept him back as an individual due to the potential distraction his presence could bring to others.
Career
On November 11th, 2017, Cody created his Twitch account and on the same day, he also launched his YouTube channel. But he didn't upload the video on YouTube until April 2018. Cody began his career under the moniker of "Classic" but later someone suggested that he should shorten his name. That led him to choose the moniker of Clix instead.
During the last months of 2017, Clix started his association with the video game series "Fortnite". He began uploading his content on his Twitch account and later on YouTube. He had a smaller following on these platforms until the turning point of his career came in 2019.
That year Clix earned the Public's attention when he qualified for the very first "Fortnite World Cup". Around that time he was just 14 years old. More impressively Clix went on to place 18th in the competition and won 112 Grand in Prize money. From that point forward his career began to take off greatly.
Clix then joined the "Misfits Gaming – Esports Organisation" that same year in 2019. In the following year, he left that organization in order to sign with NRG which has its headquarters in LA.
Banned Twitch Account
Over the years Clix found himself in a couple of streaming-related controversies. In November 2019, Twitch wound up suspending his account for 7 days. Because he featured another suspended Twitch player ZayanSZN on his channel. Eventually, Clix's banned was reduced and he was only down out for three days in total.
Then in February 2021, Clix was indefinitely suspended from Twitch when an explicit picture of his friend Stable Ronaldo flashed momentarily on his screen.
Luckily because Clix has an incredibly loyal fan base and they filed the platform with Tweets using the #freeClix. That hashtag quickly began to trend on Twitter. Only a day later Clix's stream was reinstated but the actual causes behind the suspension are not fully known.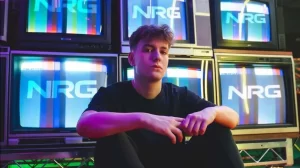 Personal Life
Clix went onto Twitter to tell his fans that he was lonely and looking for a girlfriend. Only a few days later he posted a video on social media that he found a young girl. Clix started a relationship with this woman known as "Darla Claire". Darla is also a social media influencer.
Clix went to show Darla off to Andrew Tate when he invited Tate to appear on his Twitch stream. Andrew did his best to help Clix get closer to Darla than ever before. Unfortunately, this relationship didn't last long. Clix's fans told him that Darla was already in a relationship with a boy named Darren.
Only a day later Clix introduced his audience to his new girlfriend named Lena, a fellow Fortnite player. While hanging out and streaming live with Lena, Clix made an excuse to send Lena out of his room.
Once she left the room, Clix began talking about his ex-Darla. He tried to convince Darla to give her another chance. Unfortunately, Lena heard his conversation and confronted him about what was happening. Eventually, his relationship with Lena ended there.
Endorsement
Clix is one of the most recognized streamers in the industry. He has endorsement deals with popular brands such as:
Therabody
Purple
The General Insurance
Roccat, AMPM
Hot Pockets
Turtle Beach
Clix Net Worth
As of 2023, Clix's Net Worth is approximately to be around $2 million. He is one of the rising streamers on Twitch and gained a lot of popularity at an early age. After discovering his success in gaming it looks like in the coming years he will be on the list of top streamers.
Clix already earned a lot of fortune from the gaming industry and he's still making money from various ventures. Outside of his profitable career, Clix's also got one of the most dedicated fan bases in all of Esports. His annual income is approximately $1 million.
Clix is not only earning from his YouTube channel, and Twitch account, but he also has sponsorship deals and several other ventures. According to reports, he earns around $5,000 per month from brand endorsements.
You May Like: