Yanet García is a Mexican model, actress, and TV presenter who has a net worth of $3 Million. She is best known as the world's se*iest weather forecast girl and broke the internet with her appearance.
Yanet made a name for herself in the entertainment industry after being featured on the cover of several popular magazines. Later, her social media following caught the attention of some high-end brands with whom she signed endorsement deals.
The Mexican Weather Girl amassed almost 15 million followers on Instagram alone. She gained such an impressive following in a short period. People don't even care that she is covering local forecasts, everyone is mesmerized by her beauty.
What is Yanet García's Net Worth?
[table id=496 /]
Early Life
Yanet Cristal Garcia San Miguel was born on November 14th, 1991 in Monterrey, Nuevo Leon, Mexico. She was raised by her mother Anny Sanmiguel alongside her sister Alondra García.
Little less known about Yanet's personal life as she likes to keep things professional. But it seems that she always dreamt of a career in front of a camera.
Career
Yanet made her first television debut in a competitive game of volleyball at the age of 19. However, she didn't win that game but she did make some industry contacts.
Following this appearance Yanet entered into Nuestra Belleza Nuevo Leon in 2013. This event served as the preliminary contest for Mexico's Nuestra Belleza contest.
The winner of the show went on to the National contest as a delegate for Nuevo Leon. Sadly, Yanet didn't win this show again but she learned so much about the modeling and beauty pageants.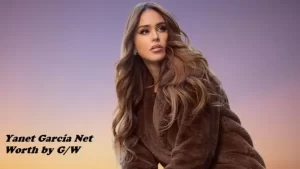 Breakthrough
Yanet García had her first breakthrough moment when she launched her own modeling school called Yanet Garcia Models in her hometown. In the modeling school, she trains aspiring models in runway, print, and for beauty pageants.
Yanet then landed a job as a meteorologist for the famous news program Televisa Monterrey. She gained significant popularity on the news program for reporting the weather in her form-fitting mini dresses.
Her content typically revolved around her weather broadcast for Televisa Monterrey while she has received numerous offers from the US, UK, and Canada. Yanet García earned a net worth of $3 million from her successful career.
Other Ventures
Yanet has said that people have long asked her how she got her body. She not only attributes it to good genetics but also puts in her fair amount of work. In the past, she has been known to do a considerable amount of jogging, boxing, and frequent visits to the gym.
Before going live during her weather reports, Yanet customarily tweets a picture of her outfits to her Twitter account. Many of her fans are unable to watch her weather reports live, so she uploads them to her personal selt-tiled YouTube channel.
Some of her most popular videos have received upwards of 4 million views. In March 2018 she uploaded her last video on YouTube titled Yanet Garcia el clima HOY.
Personal Life
Shortly after she went viral in the middle of 2015, the professional Call Of Duty player FaZe (Doug Martin) took notice. FaZe was getting ready to record some Call Of Duty videos with his friends when one of them linked him to a video of Yanet.
After watching the video, FaZe uploaded a video called "I Am In Love". During the video, he stated that he followed her on Twitter and asked his subscribers to Tweet at her asking her to follow him back. Soon, Yanet followed her back on social media and FaZe immediately flew to Mexico. As of now, the couple has been dating for many years.
Career Highlights
Access Hollywood (TV Series, 2015)
Sharknado 5: Global Swarming (2017)
Being one of the most popular weather forecast girls
Yanet García Net Worth
Yanet García went to the peak of her career, amassing millions of fans around 2015. Countless of her videos online have ranked millions of views. The aspiring model-turned-meteorologist grabbed the attention of famous modeling agencies.
Yanet found success in the crowded world of print and runway, so she went to school for journalism as well as meteorology. She fulfilled her dreams of being on camera, landing a full-time gig with her local station Televisa Monterrey.
The model Yanet accumulated a lot of wealth from her appearance on television shows as well as brand endorsements. She was named to appear in the television commercial for Victoria Beer. Additionally, she has done product sponsorship work for big names like AWA Hydrate, Studio F México, and Maxim LatinGal Boutique. As of 2023, Yanet García's net worth is estimated to be $3 Million.
You May Like